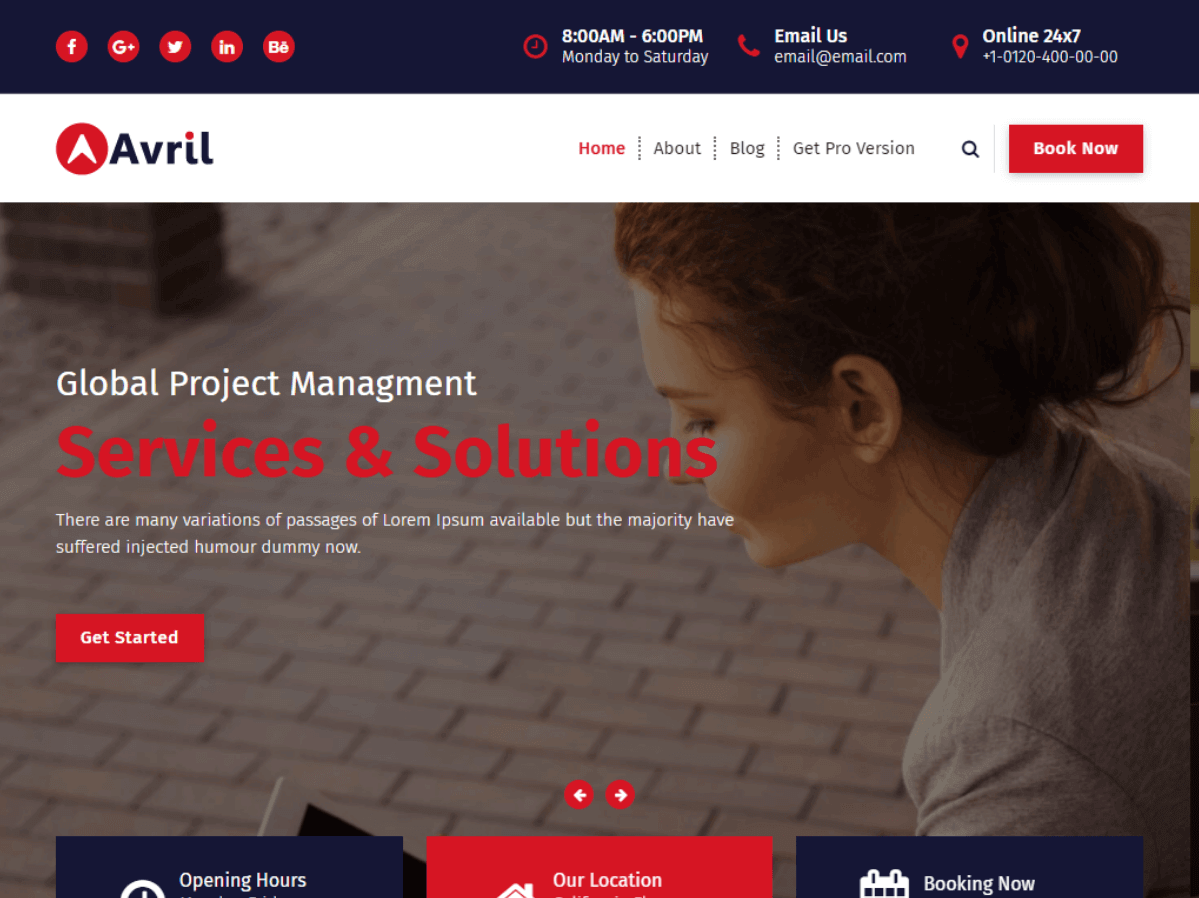 Avril is a fast and super free multipurpose WordPress theme with every integration to support the needs of WordPress websites. It comes with features with which you can build many amazing websites. Avril theme is a business WordPress theme suitable for all making sites for commercial, corporate, and marketing agencies. 
You can also use this theme for intuitive services showcases, clients testimonials, and blogs. So, Avril is a multipurpose WordPress theme as well. It stands out from the rest as the users get a good and smooth web experience. You can use the easy one-click demo installation for choosing and setting up your website.
The theme also highlights premade templates with clean & unique designs. Later, you can use customization options like unlimited colors and a sidebar to tweak the changes you need. You can explore more of its features & services below. To date, more than 8000 active websites use Avril. Continuing the constant update, the last update dates April 4, 2022. And the theme will only work if you have PHP version 5.6 or higher.
Major Features of Avril That You Can't Miss
i) User-Friendly Layout: Avril offers the layout with minimal design and style. Because of this, they load as quickly as possible. This action helps boost your site's performance and even improvise the search engine's ranking. Hence, a user-friendly layout is a major requirement when dealing with traffic, and Avril fulfills it.
ii) Fully Responsive/Mobile Friendly: The design of the layouts you use or edit will automatically adapt itself to the screen it presents. Be it on the laptop, tablet, or the widely used smartphones (mobile devices). Such responsive websites will make your web content more approachable and gain the trust of your users.
iii) Three Verify Sliders: Avril gives you the varied option of slider options. The options include showcasing your marketing & strategy, services & solutions, and professions. You can try the one you like and display images or videos on your website that would impact the audience.
iv) Regular Updates: The professional creators of Avril are wary about the bugs that might hamper the theme's performance. Hence, it's constantly updated, and with each update, the features become more effective and easy to run. Plus, the update will enhance the security of your website, ensuring protection against malicious codes.
v) Quick and Dependable Support: You can always rely on your support team of Avril. Whether it may be the concerns regarding installation, update, or anything, you can let them know. They will give a quick as fast as possible. You can either use the WordPress.org support forum or directly get in touch with them via live chat. Either way, it won't let you down.
vi) Bootstrap Framework: This modern framework helps build your website's sleek, powerful, and intuitive mobile-first front end. It allows for faster and easier web development. Plus, if you ever wish to stylize it further, use the unlimited colors. You can do this without even having to touch the messy codes.
vii) Outstanding Features & Support: Are you ready to sell your products online? WooCommerce ready Avril theme will help you start a web store instantly and boost your sales. Likewise, there are areas for the left & right sidebar in their developed pages. You can decorate them with sidebar widgets or any custom widgets. Plus, the use of a strict menu will add up to the standard web design.