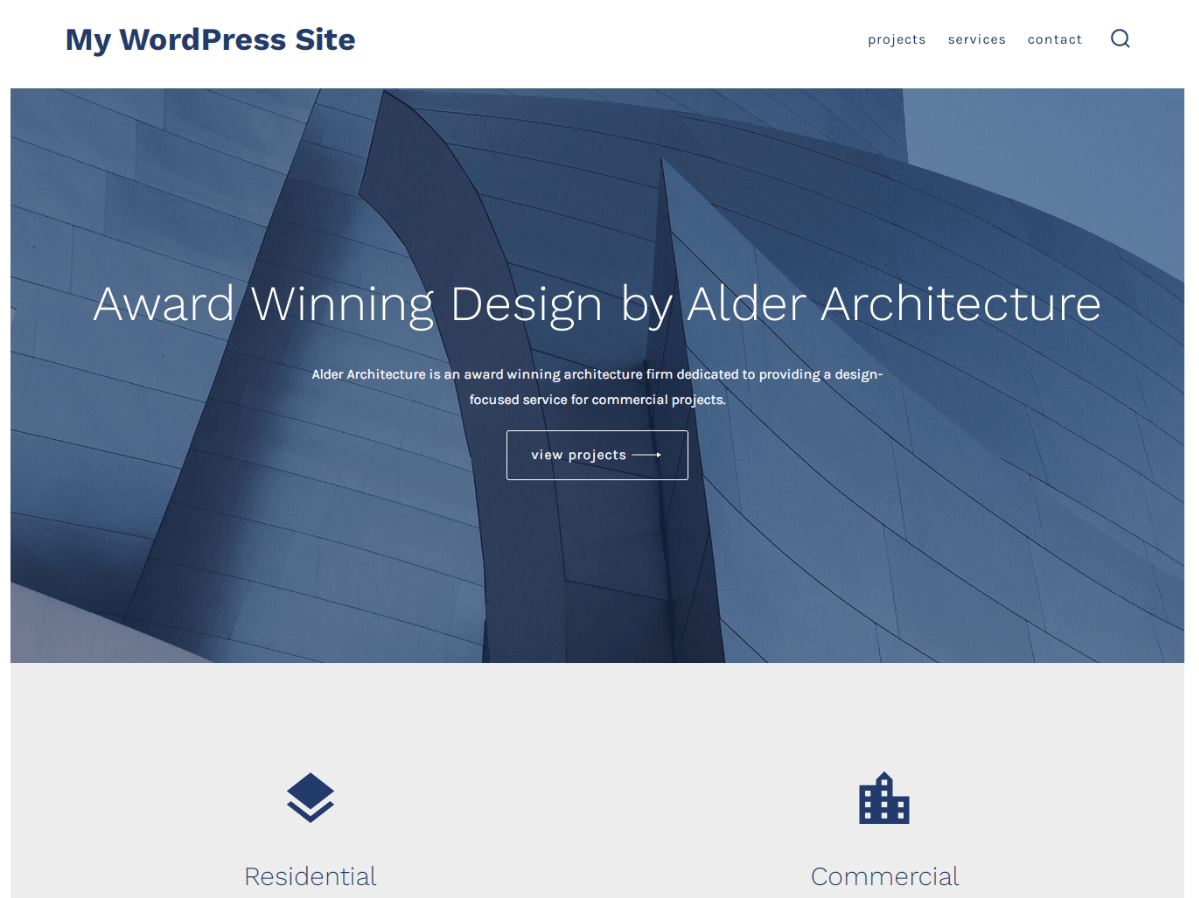 Do you want an innovative WordPress theme that helps to build beautiful websites? The newly launched Go, by GoDaddy, is that perfect choice. This free WordPress theme comes with a modern design and offers comprehensive customization options. Go is an excellent choice for bloggers, portfolios, business owners, eCommerce sites, marketing agencies, and more.
Go is also the most flexible Gutenberg-first WordPress theme for go-getters everywhere. So far, the theme has already gained 90,000+ active installations. You can easily download its latest version 1.8.1 from WordPress.org. It works with PHP version 5.6 or higher. Their last updated date marks to be March 24, 2023.
The best part about Go is it provides the tools you need to create a visually stunning and fully functional website. The beautiful layouts, 100% responsive design, drag-and-drop page builder, advanced customization options, and seamless WooCommerce integration make website creation an enjoyable and hassle-free experience.
Consider giving this versatile and modern theme a try and unlock the potential of your WordPress site.
---
More about Go; an Innovative Gutenberg-first WordPress Theme
i) Full of Unique Features: The Go WordPress theme by GoDaddy offers several unique features that set it apart from other themes. Firstly, it's an innovative, Gutenberg-first WordPress theme, hyper-focused on building stunning websites with WordPress. Second is its integration with GoDaddy Products. Go is specifically designed by GoDaddy, a leading web hosting and domain registration provider. As a result, Go integrates with GoDaddy products and services. This integration helps to manage your website, domain, and hosting all in one place.
ii) Go with Simplified User Interface: Go emphasizes simplicity and user-friendliness. It offers an intuitive interface and a user-friendly customization panel. They make it easy for users of all skill levels to create and customize their websites even without extensive coding knowledge.
iii) Built-in Drag-and-Drop Page Builder: Go includes a powerful integrated drag-and-drop page builder. This feature allows you to create complex page layouts and customize the appearance of your website easily. You can simply drag and drop various elements, such as text boxes, images, sliders, and buttons on your web pages and arrange them as needed. The process eliminates the need for installing additional plugins or relying on external tools. Hence, you can save your time and effort while using Go.
iv) Extensive Template Library: Go offers a wide range of professionally designed templates for various types of websites, such as blogs, portfolios, business sites, and online stores. The extensive template library provides a solid foundation for your website, allowing you to choose a design that aligns with your goals and easily customize it to your liking.
v) Advanced Typography Options: Go has an extensive range of typography options. It allows you to choose from a vast library of fonts and customize the size, spacing, color, fonts, and more. We all know, typography plays a crucial role in enhancing the readability and visual appeal of your content. Keeping this in mind, Go gives full control over this aspect, so that your website stands out with unique design & delivery.
vi) Versatile Header Styles: Go offers multiple header styles to choose from so that they will match the design and functionality of your website. Whether you prefer a classic header with a logo and navigation menu or a more modern and minimalistic approach, Go has you covered. You can also add social media icons, search bars, and contact information to your headers, further enhancing user engagement and accessibility.
vii) Seamless WooCommerce Integration: Go seamlessly integrates with the popular WooCommerce plugin, enabling you to create an online store with ease. The integration allows you to showcase products, manage inventory, process payments, and provide a smooth shopping experience for your customers, all within the Go WordPress theme.
viii) Emphasis on SEO: Go WordPress theme is built with SEO best practices in mind. It focuses on factors such as clean code, fast page load speeds, responsive design, and proper HTML markup, which are essential for optimizing your website for search engines. By prioritizing SEO, Go helps improve your website's visibility and attract organic traffic.

ix) Dedicated & Reliable Support: As a product developed by GoDaddy, Go comes with reliable support from a trusted provider. If you encounter any issues or have questions, you can rely on their support team or the WordPress.org support forum for assistance.