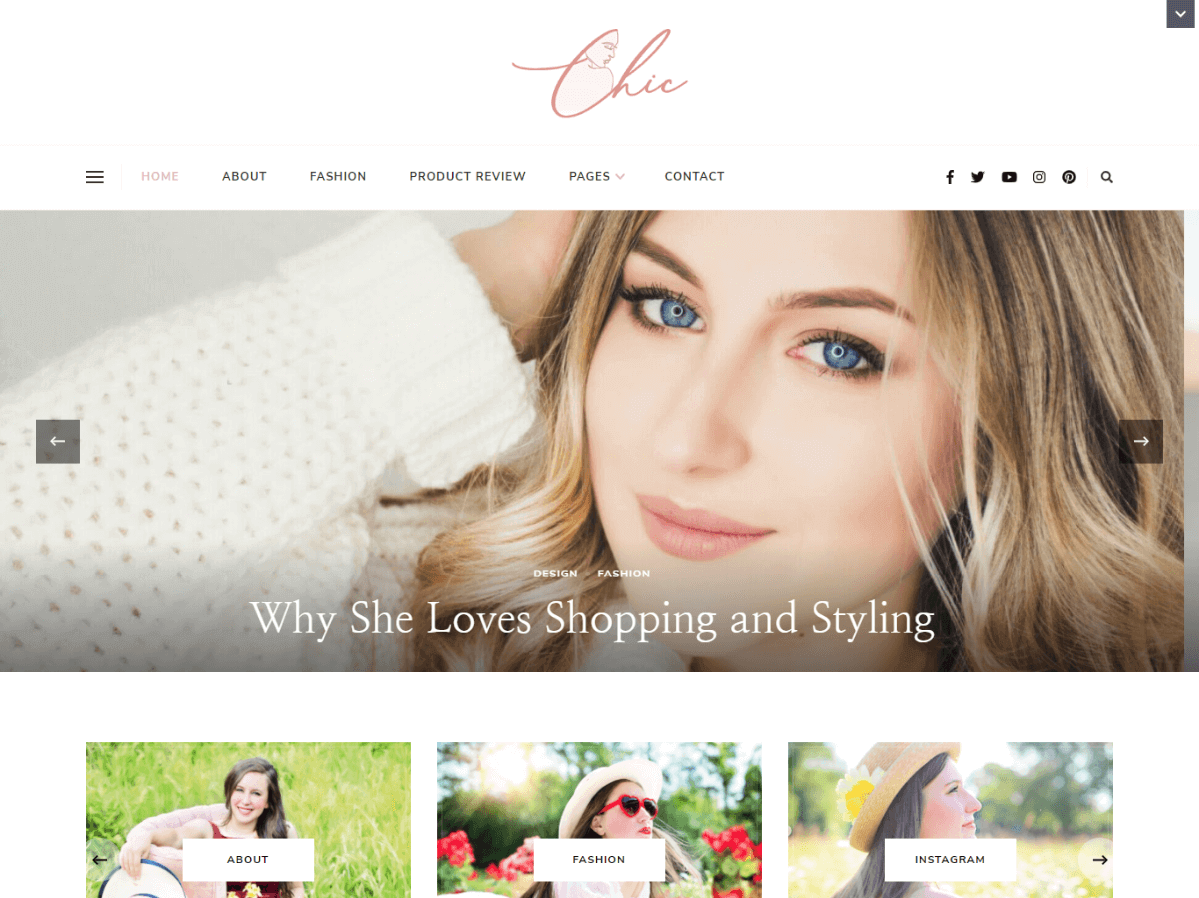 Are you looking for a feature-rich feminine blog theme for your WordPress blog website? Look no further; Chic Lite is the theme you have been looking for. Chic Lite by Rara Theme is one of the best professional blog themes for all professional bloggers.
Chic Lite is a free, versatile, modern WordPress theme with an elegant design. The theme has a distinct look that is customizable to your blogging requirements. You can use this theme for various blogs, including Lifestyle Blog, Fashion Blog, Travel Blog, Beauty Blog, Food Blog, Parenting Blog, Health Blog, Self-Improvement Blog, Journals Blog, and so on. You can set it all up in minutes without writing a single line of code. Additionally, you can connect to your audience with an integrated newsletter. You also have an Instagram section to connect to your Instagram posts. 
To date, it has over 6000+ installations and has 5 out of 5 stars on WordPress.org. You get Chic Lite version 1.0.8 as the latest version. It was last updated on February 15, 2022. It works with PHP version 5.6 or higher. The team behind Chic Lite is Rara Theme. The company has been in the market for quite some time now. So, you can trust the themes created by them.
Major Features of Chic Lite
The features that make Chic Lite the best blogging WordPress theme are as follows:
i) SEO friendly: Blogs need to have the best SEO to reach a larger audience. The team behind Chic Lite uses expert consultation to improve their SEO more than other themes. Chic Lite comes with every advanced feature, prepared to give you better SEO performance. One such feature is Schema integration. This integration helps search engines understand your content better and present it in relevant ways. With Chic Lite, you will get the best search engine optimization.
ii) Optimizing for Ad revenue: This theme has an Advertisement Widget. It allows you to place advertisements across your website without any hassle. There are comprehensive advertisement settings in the theme options panel where you can adjust your preferences. Later, you can customize custom images to reflect ads based on your blog. Furthermore, you can integrate the advertisement into your sidebar to generate advertising revenue.
iii) Customization, Customization, and more Customization: You can easily change the theme color on your website to highlight the significance of your digital brand. Select the right color in your theme that meets your needs quickly. You can choose over 900+ Google fonts for the text displayed on your website. Additionally, you have Typography control to show a distinct combination of typography that is harmonious and memorable. It helps boost the overall user WordPress experience.
iv) 22 Custom Widgets: Chic Lite theme comes with 22 custom widgets for extended functionalities. These widgets are highly customizable and help engage visitors with varied options to explore. These widgets can be utilized to give your users the best blog-reading experience.
iv) Gorgeous Responsive/Mobile-Friendly Design: The theme Chic Lite adapts itself to the screen size of every device. It ensures that all your visitors experience your website in its beautiful form. The importance of this can not be more stated. Many users, especially people who read blogs, are mobile users. With this theme, you are able to beautifully present your blogs to all of your users across all their devices.
v) Grow Subscribers with Newsletter Subscription: This theme comes with a gorgeous and strategically placed Newsletter section that can help you increase your subscription rate. It is an easily accessible Newsletter section on the homepage. You can also set the newsletter forms in other locations, such as the sidebar and footer.
vi) WooCommerce Compatible: If you want to sell products through your blog, you can do so with this theme. The theme is ready for the popular WooCommerce plugin, so you can easily create an online store on your blog and start selling your products.
vii) Social Media Integration: Nowadays, most themes integrate social media into your website. Where this theme shines is an Instagram section to showcase Instagram posts. You can easily incorporate popularly used social media profiles like Facebook, Instagram, Twitter, and Pinterest. If you have those accounts, it also supports Russian and Chinese social media sites like OK, VK, Zing, and others.