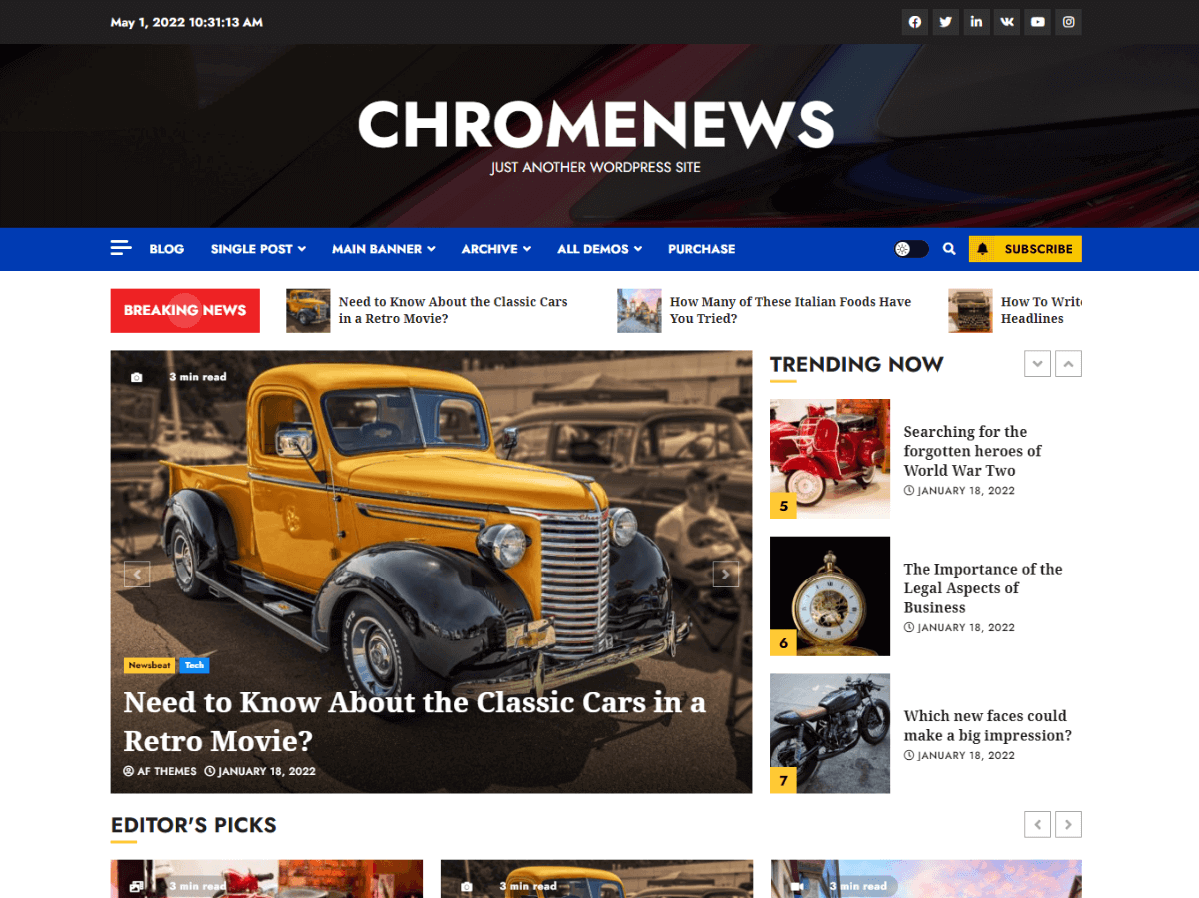 Among many WordPress themes, only a few directly focus on news, blogs, and magazines. ChromeNews by AF themes is one of the best free blog WordPress themes and will make the best WordPress website for your news, blog, or magazine. 
ChromeNews is a powerful and modern WordPress theme. You can use this theme for news, blogs, and magazines. Here, you will get a wide range of free starting pages. These can be easily integrated to construct a fantastic website for your audience. With the combination of custom widgets, you are able to add more functionality to your WordPress website. 
ChromeNews has over 4000+ active installations and a 4.5 out of 5-star rating, according to WordPress.org. It was last updated on March 31st, 2022. With the latest update, you get version 1.0.2.15. It works well with PHP version 5.6 or higher.
The features of ChromeNews - free blog WordPress theme are as follows:
i) One Click Demo Import: You can import the theme into your WordPress website with one click. They have demo themes for Fashion, Sports, Arabic News, China News, Business, magazines, Beauty, Restaurants, and many more. You don't need to start from scratch. You can simply import their demos with one click. After that, you can customize and make the WordPress website that will reflect your brand and give your users a great user experience.
ii) Easy to set up: The team behind ChromeNews has gone a step further to help you set up your site easily. Firstly, you can one-click import the many demos they have. After that, you can use the customizer to build your website quickly. They also support the advanced Gutenberg, so you have a significantly different experience compared to the Classic Editor.
iii) Integration with WooCommerce: If you want to set up an eCommerce business within your website, it's easier than ever with ChromeNews. ChromeNews seamlessly integrates with WooCommerce. You get one of the fastest, most customizable free WordPress themes, which is now intuitive and better integrated with WooCommerce. Set up your eCommerce website within your WordPress website to start selling your products today.
iv) 15+ Custom Widgets: With ChromeNews, you get 15+ custom widgets. You can utilize these widgets to add more functionality to your WordPress websites. These widgets can provide powerful features that enhance the WordPress website experience. So, utilize them in the best way that will benefit your audience. This will ensure your readers keep coming back to your website and indulge in your content.
v) Cross Browser Support: ChromeNews supports popular modern web browsers. With this theme, you have no problem running your website on browsers such as Chrome, Firefox, Safari, IE9, IE10, IE11, Edge, and Opera. This feature ensures the accessibility of your website to a large number of users. They will have a smooth experience with this theme on your WordPress website.
vi)Regular Updates and Outstanding Support: The team behind ChromeNews are always up to date with the latest version of WordPress. They regularly release updates and add new features to their website. Additionally, they provide fast and friendly support. The products they create are simple and easy to use, but if you need any help, they are always ready to help you. You also get extensive documentation. There are also video tutorials to help you along the way. So, make your WordPress website with ChromeNews today.
vii) Miscellaneous Features: The theme is packed with many features that are worth knowing. The website is fully responsive and will adapt to any device. It's optimized for search engines as a result of a good codebase architecture and coding practices. It is a translation ready to be adapted into local regions with local audiences. You will get all the best features to start your WordPress website and give your users the best user experience.