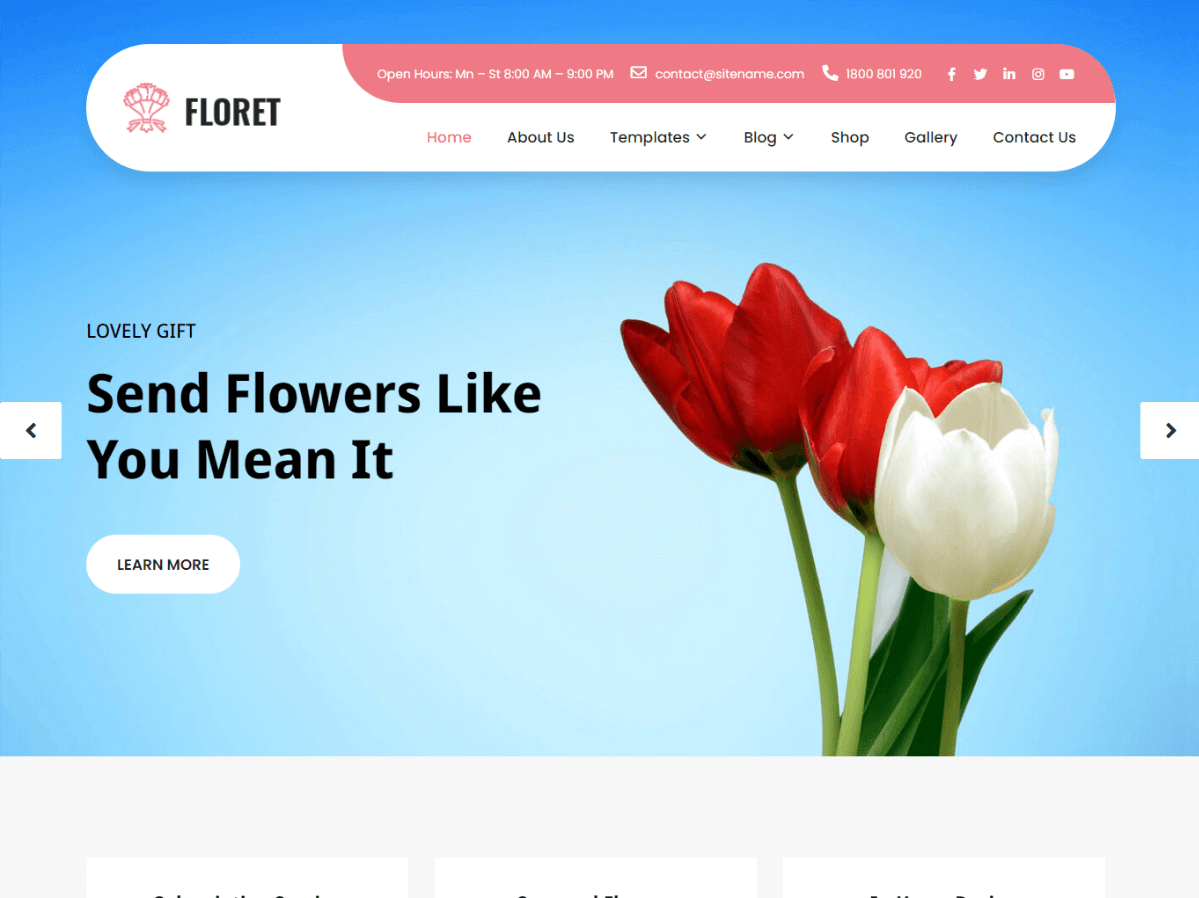 Are you a florist looking for a minimal yet beautiful florist WordPress theme? If yes, you shouldn't miss Floret Lite. Floret Lite delivers every part of the website in an attractive and sleek manner. No wonder the theme targets audiences who are involved in the flowers or flower business, florists, gifts & decoration stores, light services, and online floral stores. 
Also, Floret Lite is suitable for flower shop owners, flower suppliers, online delivery services, eCommerce stores, subscription service providers, and more. Since the theme delivers elegance, you can even use it as a feminine theme. It offers powerful features that you can use for many purposes.
Additionally, every functionality and feature of this theme is simple and beginner-friendly. And it supports you fully to achieve your long-term goal. So, don't stay behind and impact your audience with an excellent online presence with Florist Lite. Your website will give faster performance, rank better on search engines, and flourish your business.
To date, there are more than two hundred active installations. And this theme works with PHP version 5.6 or higher. GraceThemes don't compromise on updates; that's why the last updated dates are February 26, 2022.
Major Features of Floret Lite that You Can't Miss:
i) Highly Appealing and Functional:
Floret Lite is all about easy customization. It comes with visual built-in theme options flaunting unlimited color and fonts. You can do these creative & distinct options even without touching code. For instance, you can design your home page freely. There are options like boxed, multi-level, and full-width menus. Also, you can push the functionality using the custom widgets, sticky navigation, blog layout, header & footer.
ii) Live Editing with Customizer: Use the inbuilt WordPress customizer to make unlimited tweaks. And you can do it with live preview whenever you modify anything on your site. Along with this, the theme supports custom CSS to use animation effects and parallax. They help to create engaging and eye-catching brand presentations. You can see a growth in your business with its use.
iii) Full of Important Sections: You will find all the important sections in this free florist WordPress theme. Hence, you get to showcase all services using them and make your site impactful. For instance, you can add sections of contact information, and social media icons, in the header section of your homepage.
iv) Easy to use CTA Buttons: CTA (Call to Action) button gives a handy option for users to get in touch with you. The option is also effective for helping your visitors easily purchase online. Hence, you can make your selling effective and strengthen your marketing strategy. This way, you can flourish your business using Floret Lite.
v) Minimal and Appealing Design: Floret Lite uses a simple approach for showcasing the layouts and their design. They meet every need for an appealing flower store. For example, the homepage design is beautiful and flexible enough to fit your needs. Likewise, you can use the full-screen image slide to flaunt related images and enhance conversions.
vi) Responsive Theme: Floret Lite is highly responsive as it works well with all available devices. Users can view your site without any hassle, whether on laptops, tablets, or mobile phones. Plus, this theme is easy to use and set up. It's a good choice for beginners who wish to start a WordPress theme.
vii) Compatible with Plugins & Page Builders: Another flexible feature of Floret is its compatibility with page builders and popular plugins. You can use the drag and drop builder plugin to ease the customization complication. Also, the theme is WooCommerce ready. Thus, you can start an online flowers/ gift/decoration store and do every eCommerce activity.
viii) Important Miscellaneous Features: Other major features of Floret Lite are their optimization for speed and SEO friendly. They enhance the discoverability of your site by Google SERPs. The theme also makes your website compatible with renowned browsers like Chrome, Opera, Firefox, IE11, and Safari. With these great features, they work with WordPress versions above 4.5.