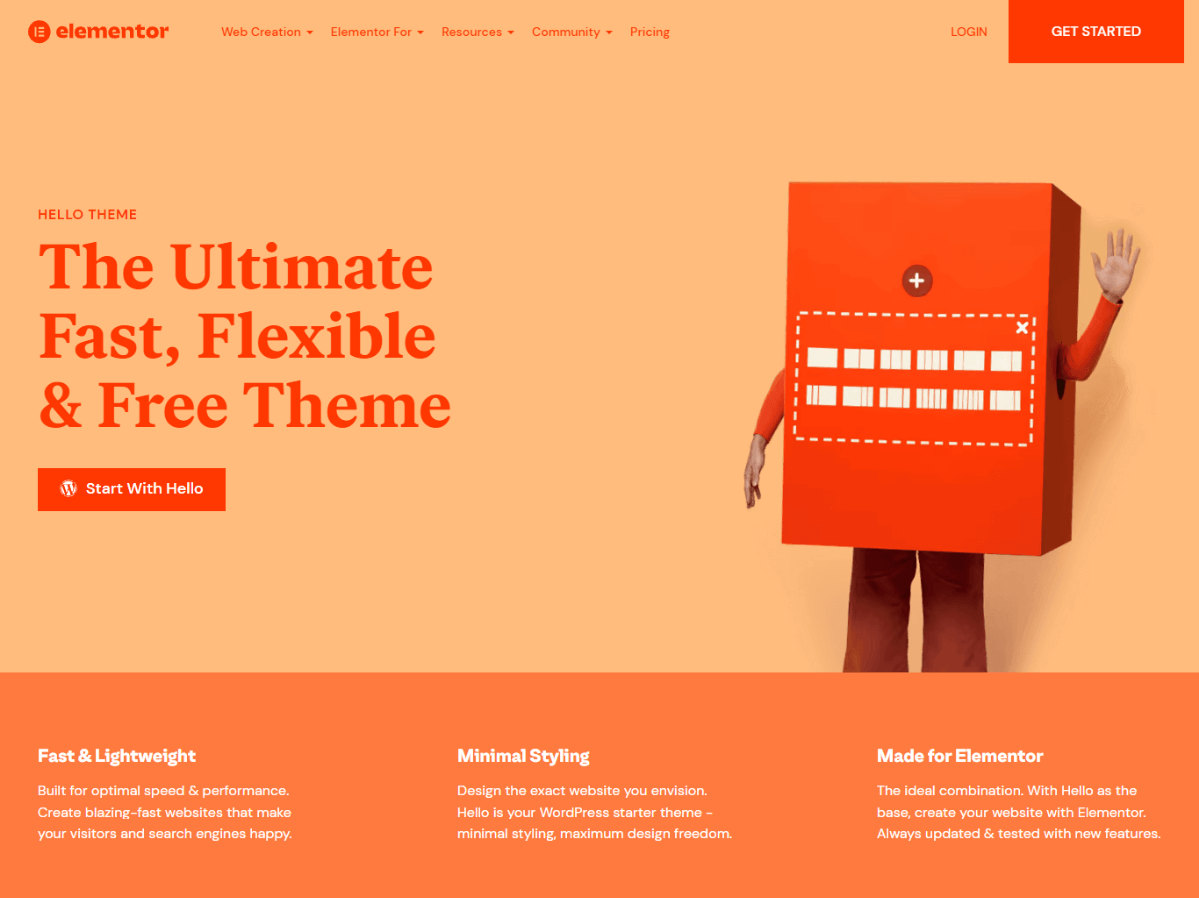 Hello Elementor brings a revolution as a WordPress starter WordPress theme. It's a super lightweight theme, made with clean codes. What you get here is a plain vanilla minimalistic theme with no styling. Later, you can use a powerful theme builder like Elementor to customize your theme and craft a beautiful website.
You can easily pick from hundreds of templates to kickstart your projects. You have a variety of designer-made templates, from page blocks to entire websites. Based on your needs, you can build a website for business, charity, photography, blogs, presentation sites, news, and/or portfolio sites, and many more.
With over 900,000+ active installations and a 4.7-star review, Hello Elementor is an excellent free multipurpose WordPress theme. Incorporate it into your WordPress website and enhance your WordPress design and user experience. It works with PHP version 5.6 or higher.
Major Features of Hello Elementor and Their Details:
i) Made for Elementor: Hello Elementor is unique to the elementor ecosystem. This ensures there is no compatibility issue while using Hello Elementor with Elementor, making it the ideal combination. You also are constantly updated and provided with the newest features as a result.
ii) Fast & Lightweight: Hello Elementor is simply made for optimal speed & performance. This makes it easier to create blazing-fast websites that ensure a good experience for your visitors. Different speed test results in tools like Pingdom proves its loading time and overall performance grade are better than other themes.
iii) Minimal Styling: You can add on further design as per your requirement with minimal styling. This means that you don't have to spend time changing the design aspects that you do not find pleasing or matching your brand. This theme acts as your WordPress starter theme - minimal styling, maximum design freedom.
iv) Free for Eternity: Hello Elementor is a free multipurpose theme for WordPress. And it claims to be like this forever. You can simply make your choice and create professional designs with ease. All of the features are fully compatible, so it's also the best free theme for Elementor.
v) Flexible Customization: After installing and activating the theme, you'll see a homepage without styling. Don't worry, as it allows flexible customization using the Theme Builder. You can easily set your header, footer, and content. Use the rightly designed template and create a unique homepage within minutes. Moreover, Hello has a child theme that further aids in customization.
vi) Out of the box Compatibility with Popular Plugins: Hello Elementor is compatible with the most popular plugins. It includes plugins like Yoast, WPML, and another majority of plugins available in the WordPress repository. So, if you are onboarding with this theme, you will have no problem seamlessly working with other plugins.
vii) Easy WooCommerce Integration: You can easily integrate WooCommerce with this theme if you wish to build an eCommerce site. Create the perfect store with a variety of modern options with this theme.
viii) Open Source: Lastly, Hello Elementor is open source. It means anyone can view, download, modify, and distribute its source code. Moreover, it supports Right To Left (RTL) languages right out of the box. With simple and clean code, you can shape Hello Elementor into the kind of website you desire.