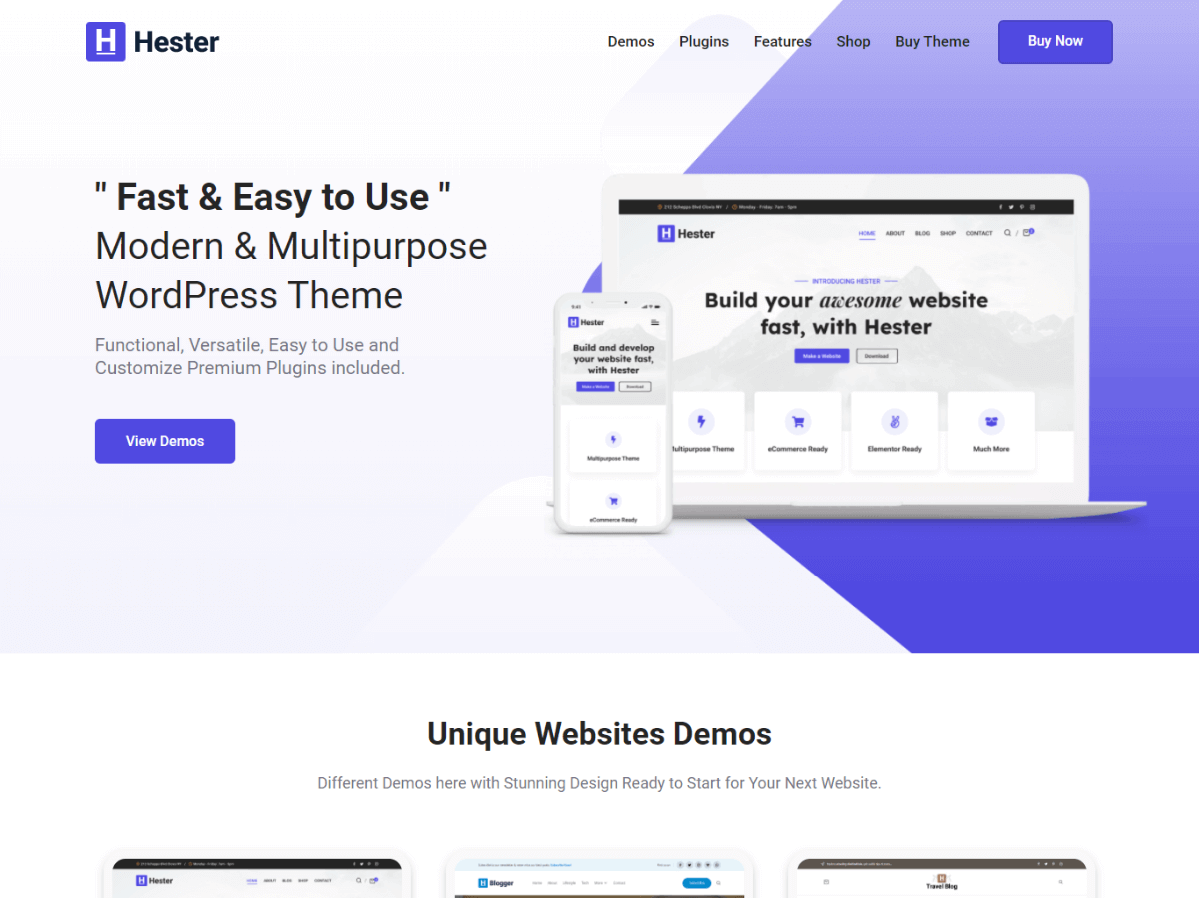 Are you someone who is looking for a well-designed, lightweight, and easily customizable WordPress theme to integrate into your WordPress website? Well, look no further. Hester is the free multipurpose WordPress theme you need. The team behind Hester has ease of use for you and saving time for their customers as their main priority. That is why Hester is the best solution for your next website project.
Hester is a multipurpose WordPress theme perfect for any of your websites. It is a lightweight, modern, and highly customizable theme. You can create blogs, websites for your businesses, online shops, creative portfolios to reflect your work, websites for your hotels and restaurants, and budding startups. It has the perfect performance, modern design, and powerful yet simple-to-use options. Utilizing these, you can make the best website.
To date, it has over 90+ active installations. It works well with PHP version 5.4 or higher and WordPress version 5.0 or higher. It was last updated on March 29, 2022. The team behind Hester is Peregrine. Peregrine themes are designed to accommodate the ample requirements of a vast set of different website archetypes with unique functionalities.
Major Features of Hester
The features that make Hester the best free WordPress website for you are as follows:
i) Well Designed: Everyone loves and needs a good design. This is what tells a story about your website and hooks your visitor. Hester theme is there to make your website look beautiful. Its modern design makes it look great across all platforms. Additionally, while looking beautiful, it is as functional as possible. This further enhances the user experience while visiting your WordPress website.
ii) Light Weight: The team behind it are highly dedicated to giving the best themes. With this in mind, they have built Hester with a very lightweight framework. It increases your website page speeds and gives your website a better SEO rating. Additionally, you are more likely to retain your visitors with a slower page load time. This feature provides a great user experience.
iii) Easy Customization​: Being a multipurpose website, you need to make a lot of customization to reflect your brand. With Hester, you get Customizer and Individual Page settings. You can Enable/Disable, re-order & customize homepage sections from the customizer to create stunning front pages. The Individual Page settings help you make each page reflect uniqueness or match with other pages of the website. With these tools, you are able to make any changes to your website with ease.
iv) Seamless WooCommerce Integration: To start an eCommerce site is easy with Hester. WooCommerce is deeply integrated within the theme. With easy customizations, you can display your products that reflect your brand. The products will be beautifully displayed with associated products by their side. So, get your online store up and running in no time.
v) Beautiful on All Devices: Nowadays, everyone is browsing the internet in various screen sizes. You need a theme that looks beautiful on all screens. The team behind Hester has carefully developed the theme to suit any screen-size device. The fully responsive theme will look stunning on all devices. This flexibility gives you access to a larger audience, from desktop to mobile users. And all of them will receive a great user experience.
vi) Use Elementor / Your Page Builder Of Choice: Most of us may have used a lot of page builders to build our website. Hester has seamless integration with Gutenberg and all popular page builders. You can easily use Hester with top page builders such as Elementor, Brizy, Beaver Builder, Visual Composer, SiteOrigin, and Divi Builder. You can easily set it up and design your website with your favorite builder.
vii) Best Support: Are you facing any problems with Hester? You need not fear. There is extensive documentation for you to solve all of your queries. They also have a Frequently Asked Questions (FAQs) section, which may solve everyday problems. If you are looking for real people to help you solve your problems, they have a Facebook group where you can seek help.