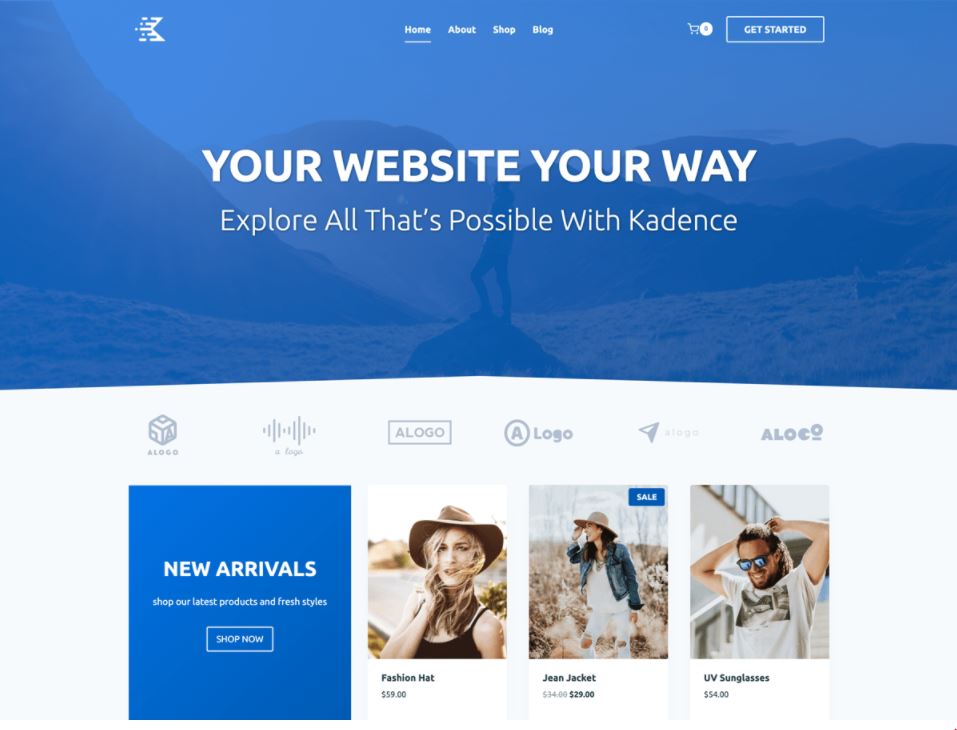 Are you looking for the tools to make your WordPress website look beautiful? Well, the WordPress theme Kadance provides you with all features you need to craft a beautiful website.
The Kadence Theme is a lightweight and full-featured WordPress theme. It is useful for creating beautiful, fast-loading, and accessible websites. The theme is easy to use with a practical drag and drop interface, header and footer builder, and many more. 
You also get to discover its entire library of gorgeous starter templates. Kadence offers them to build effective & professional sites. Additionally, with the help of plugins, you can quickly turn them into eCommerce sites, LMS websites, business websites, and more.
To date, it has over 100,000+ active installations. As per wordpress.org, it has a 5 out of 5 stars rating. It was recently updated on January 31, 2022, with the latest version 1.1.13. It works with WordPress version 5.4 or higher and PHP version 7.0 or higher.
The features of Kadence that make it best for your WordPress website are as follows.
i) Use the Page Builder you love: Everyone has their personal preference for using one or another page builder. With Kadence, you can use your favorite page builder with no hassle. It is Gutenberg optimized if you wish to use the default WordPress page builder. You can use popular page builders such as Elementor, Beaver Builder, and many more.
ii) Top-Notch Support: The company strives to go above and beyond when it comes to helping its customers. That's why many customers say, "it's the best they've ever received." Moreover, they have comprehensive documentation that will help you with any problems along the way. They also have a Facebook group and a forum on wordpress.org for solving your queries.
iii) Library of starter templates: Kadence comes with a plethora of starter templates, among which many are free to use. This means that you can choose the one that is best suited for your brand. They have templates for a portfolio, business website, photography board, an eCommerce site, and many more.
iv) Flexible Customization: With the Header Builder and Footer Builder, you can create a responsive header and footer for your WordPress website. You also have Custom Layouts
to define sidebar, no sidebar, fullwidth narrow width. With Custom Post Type support, you can easily control the layouts for custom post types right in the WordPress customizer. Moreover, use the Global Color Palette, choose your colors and make changes within a few mouse clicks. You can fully customize this theme to make it your own.
v) SEO Optimized: Kadence is built with the best SEO practices for markup and schema where needed. To add to this, it also has CSS pre-loading. You will get a one-click performance boost to preload CSS in the header when needed. Additionally, you can enable breadcrumbs using the built-in breadcrumb generator engine. All of this will make search engines prefer your site and give you a better ranking.
v) WooCommerce Extensions: Do you want to start an online store? If yes, Kadence will help you with its amazing WooCommerce extensions. It includes advanced reviews, better image galleries, and more. They help to start and boost your eCommerce business via a strong online presence & higher conversions.
vi) Responsive Websites: From tiny screens to large monitors, you can style your WordPress website to appear differently for desktop, tablet, and mobile. It means that your users will get a great user experience regardless of the device they use. That way, you will have more users visiting your website and improving SEO rankings.