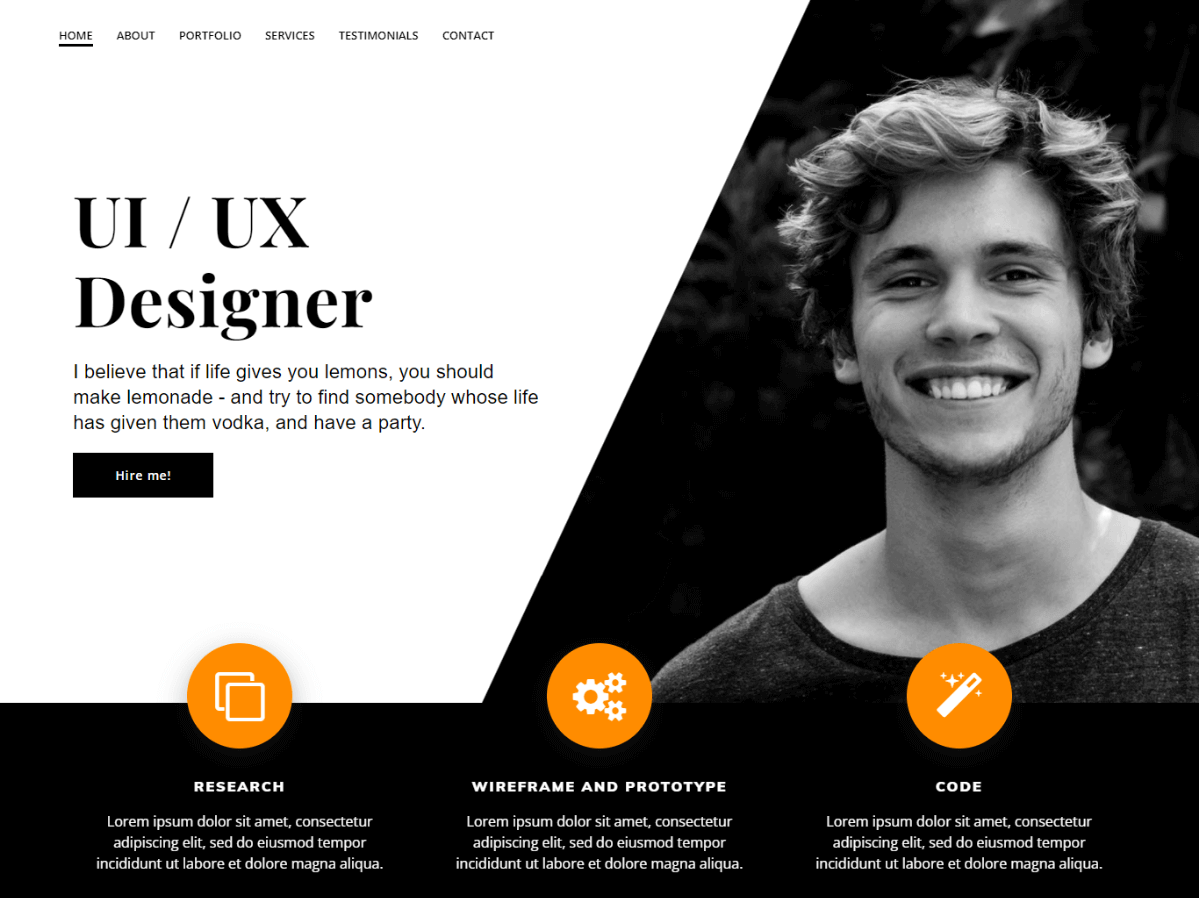 Want to mesmerize your audience with an amazing WordPress website? If so, Mesmerize is the theme you have been looking for. Mesmerize, by Extend Themes, is a multipurpose WordPress theme. You can use it for any website or project.  
The theme gives the flexibility to create your portfolio site to showcase yourself. You can also design a blogging website to showcase your blogs or start a storefront or an eCommerce store. You can mesmerize your audience with this dazzling theme. You do not need to know how to code. Simply by drag and drop, you will be able to customize your WordPress website and show your best work.
Moreover, you get to use the predesigned home page, header design, and content sections. Later, you can modify them using the customization features and craft your own web design. And the range of features doesn't end here.
Mesmerize already has over 40,000+ active downloads. If you go to wordpress.org, you will find that this theme has a 5 out of 5 stars rating. The latest version of Mesmerize is 1.6.109, and the recent update was on January 26, 2022. Also, note that it works with PHP Version: 5.6 or higher.
The features that make Mesmerize a dazzling WordPress theme are as follows:
i) Incredibly Flexible: Mesmerize is the must have page builder WordPress theme. It's flexible and has all the qualities to boost your website's design. You can build beautiful web pages and websites that beat the competition. Plus, it's so comfortably customizable and ensures no two sites look similar.
ii) Library of Predesigned Sections: Get ready to explore the predesigned sections by Mesmerize. They let you build a fantastic website by combining necessary content sections in no time. Later, you can edit the content inside those sections and design the layout as needed. You can highlight important sections like About, features and content, team and testimonials, call to action, contact and subscribe form, blog, WooCommerce, portfolio.
iii) Live Content Editing: Every theme has an inbuilt Customizer. But, Mesmerize makes the best use of it. You can simply click on anything and start editing in real-time. You can change the elements, text, button, image, icon, and other properties of your page. The powerful WYSIWYG editor even lets you add or remove content, edit or style the text, with just a few clicks.
iv) Hero Section for Exclusive Content: There is content you need to highlight on every website. They will attract more visitors and turn them into leads. That's why Mesmerize has options for both layout & design to create a special hero section. For that, Mesmerize includes a variety of hero layouts, media layouts, and background options. You can further use color, gradient, shape for final touch-ups.
v) Advanced Tools of Customization: The customization in Mesmerize includes options to design background, overlay, graphic separator, spacings, header layout, and media type. The theme also supports customization of the nav layout and design it to fit your purpose. Get ready to place nav menus like call to action, search fields, social icons in the most helpful way. You can also use the offscreen navigation tool for better display in mobile phones and tablets.
vi) Responsive: Mesmerize your audience on any screen. This theme is fully responsive and mobile-friendly. This makes it look great on any screen. Every element inside Mesmerize is designed to look great based on the screen. Additionally, the navigation system is also different and optimized for mobile devices.
vii) eCommerce Ready: Mesmerize is WooCommerce ready. Thus, you can build your beautiful online eCommerce store or a storefront in no time. The theme includes predesigned pages with product list, product details, cart, checkout, user account, and other elements. Additionally, you will find pre-designed sections to promote products right on your home page.