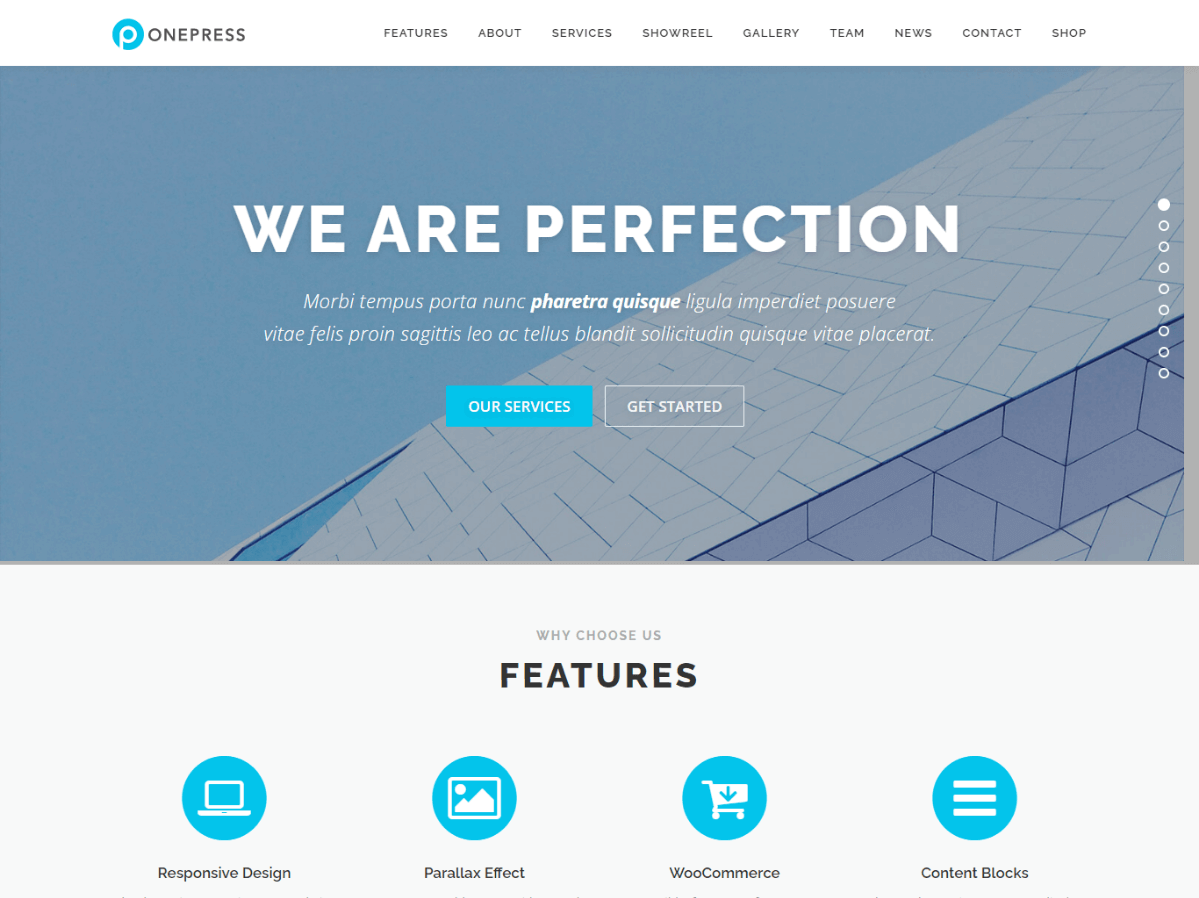 Are you a creative mind looking to showcase yourself on the internet? Well, here you have found the perfect theme. OnePress is the best one-page WordPress theme to show your creativity. It provides complete flexibility to build stunning sites on the internet.
OnePress is a free multipurpose WordPress theme. It is excellent for building WordPress one-page websites. This theme is well suited for building your business website, a portfolio to showcase oneself or your photography collection, a digital agency, showcasing products, freelancers to present their works & achievements, and everyone who appreciates a good design. 
It is an overall classic theme. Just go for the theme if you want elegance reflected on your website. To date, OnePress has over 100,000+ active installations. You will find its 4.5 out of 5 stars ratings on WordPress.org. The latest of OnePress is version 2.2.8. The theme was last updated on September 29, 2021. It works well with PHP Version 5.6 or higher.
The features of OnePress that are appealing to the masses are as follows:
i) Responsive Design: This theme is very responsive, i.e., it's able to adapt to several devices and their screen sizes. Your audience may use various devices such as desktops, laptops, tablets & smartphones. And with this theme, you will accordingly display your stunning website that looks proper to your audience.
ii) Custom Content Blocks: You can easily organize your websites with custom content blocks. This makes adding and removing portions on your website convenient. You can now showcase your company info, services, clients, videos, gallery, latest posts from the blog, contact form, and remove unnecessary content as per your need.
iii) Parallax Backgrounds Effect: One Press has been using Parallax for a long time now. It looks good and passes the test of time. And if you want to have one on your website, this theme has that feature for you. The effect stands out from the crowd. Your audience/viewers can enjoy your beautiful content in parallax scrolling sections and have a better user experience.
iv) Advanced Built-in Theme Customizer: You can quickly customize your front page to reflect your brand with this theme. You can also change others aspects like the layouts, colors, fonts, and many more as per your wish. You can find and use these theme options in the built-in Customizer.
v) SEO and Page Speed Optimized: The themes created by the Famethemes are properly optimized for SEO. This way, your page will have better rankings in search engines. OnePress is also well optimized for speed and loads instantaneously. You won't fall behind your competitors, as your website performs exceptionally and shows promising results.
vi) Cross-Browser Compatibility: People use a lot of browsers and have their preferences. That's why Famethemes tests their theme in all modern browsers. Thus, you can use OnePress in any browser of your choice. You will have no compatibility issues and work effortlessly on your WordPress website.
vii) Custom Theme Widgets and Page Templates: You get a wide range of custom and customizable widgets to use on your WordPress website. You can use them to add more features and enhance the user experience. Additionally, custom page templates give you access to pre-made styles and functions. Use them as per your need to stylize your WordPress site and attract many users.
viii) Top-Notch Support: When you need any help with OnePress, they have you covered. They have proper documentation for setting up their themes with your WordPress website. You will find the easy questions answered in the FAQ section. And for the harder ones, you will find the answers in the documentation. There is also a support forum on wordpress.org for troubled questions or assistance.