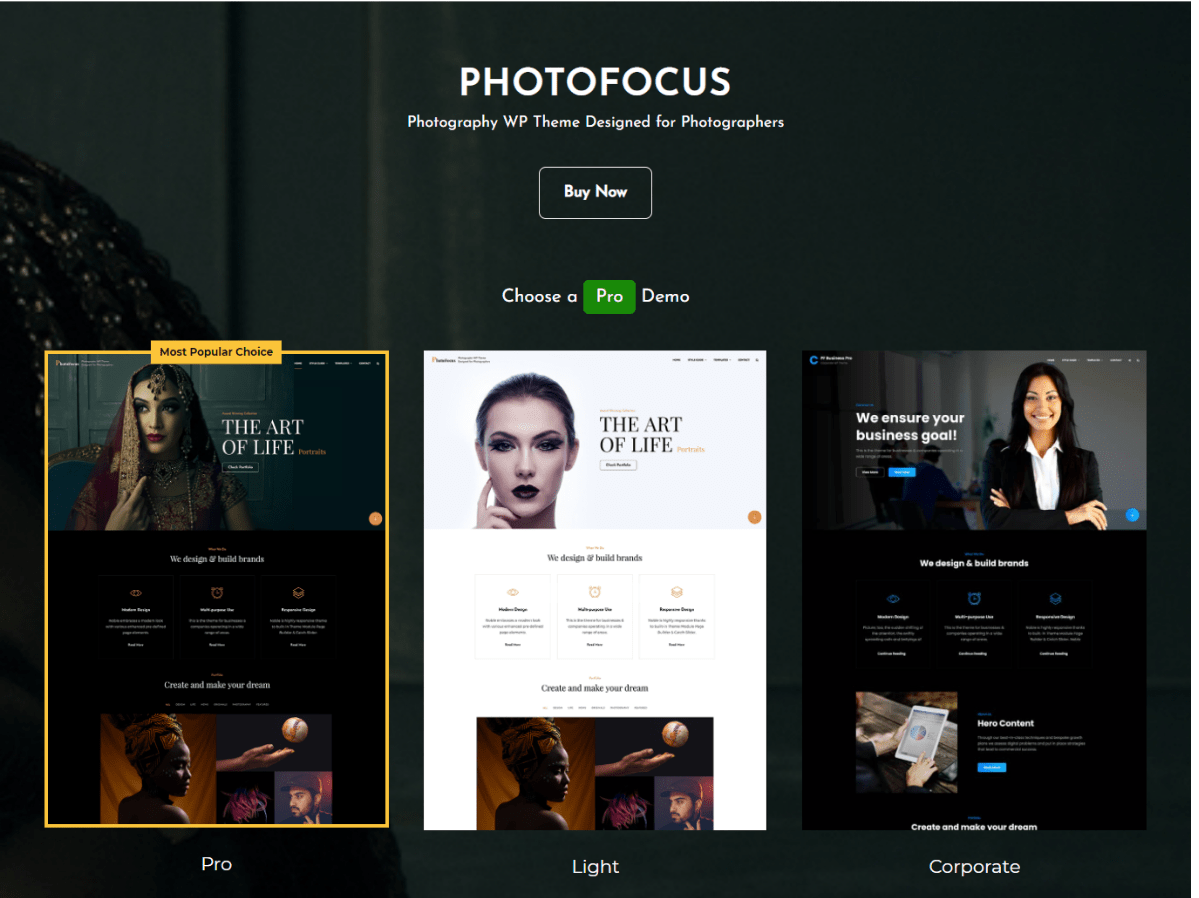 PhotoFocus is a free multipurpose photography WordPress theme. This theme is mainly directed towards photographers, photo bloggers, freelancers, and other creative photography centric websites.
PhotoFocus was specially designed for photography websites. But, since it is a free multipurpose WordPress theme, it has advanced features. This makes it viable for corporate, personal blogs, portfolios, and many more. Using this innovative theme, you can easily enhance every aspect of your page by providing an extremely user-friendly interface.
Moreover, it has over 7000+ active installations and five stars reviews on wordpress.org. It works with PHP version 5.6 or higher and WordPress 5.5 or higher. It was last updated on 10th August 2021. Install PhotoFocus today and take your creative websites to the next level.
The features that make PhotoFocus one of the best multipurpose photography WordPress themes are as follows:
i) Theme Options: With Theme Options, you can easily customize your website with clicks. You don't need to be a designer or a programmer to build customized websites. The feature allows you to toggle on and off features, adjust layouts, change colours, fonts, logo, favicon, background, add social links and custom CSS to make your own WordPress website.
ii) Responsive Design: Nowadays users view websites on screens of all sizes. With this theme, your website will respond and adapt to the specific screen. It has an optimized design for iPhones, iPads, and other mobile devices.
iii) Option of Webmaster Tools: The Webmaster Tools option helps you to manage the nitty-gritty aspects of your site. Using this, you can verify the site in Google, Yahoo and Bing. You can use these tools for site optimization, keeping track of your site traffic, overseeing and altering your display settings, adding Header and Footer Scripts like Google Analytics, Site Stats, Facebook, Twitter and much more.
iv) Incredible Support: You can check out their support page for the general questions. For queries that you can't find the answers in the support page, you can go to their forum.
v) Featured Page Slider: You can highlight your noteworthy pages using Featured Page Slider. On your page slider, you can add columns of content & images. Then, simply set for how long a page stays on before another content comes up on the slider. Try different slide effects to your liking to create the website you desire.
vi) Featured Content: You can highlight your recent and popular posts using Featured Content. You can choose between displaying the featured content on the entire Homepage or the entire site. Edit the title, sub-title, the number of the featured content, display Meta, select multiple categories, and enjoy displaying your featured and recent posts.
vii) WordPress Standard Codes: Their code is secure and optimized. The theme is made with proper data validation and follows core theme guidelines. Catch themes (the company that made this theme) developers are active contributors to WordPress theme review and WordPress core. Their themes will be updated as things change in WordPress.