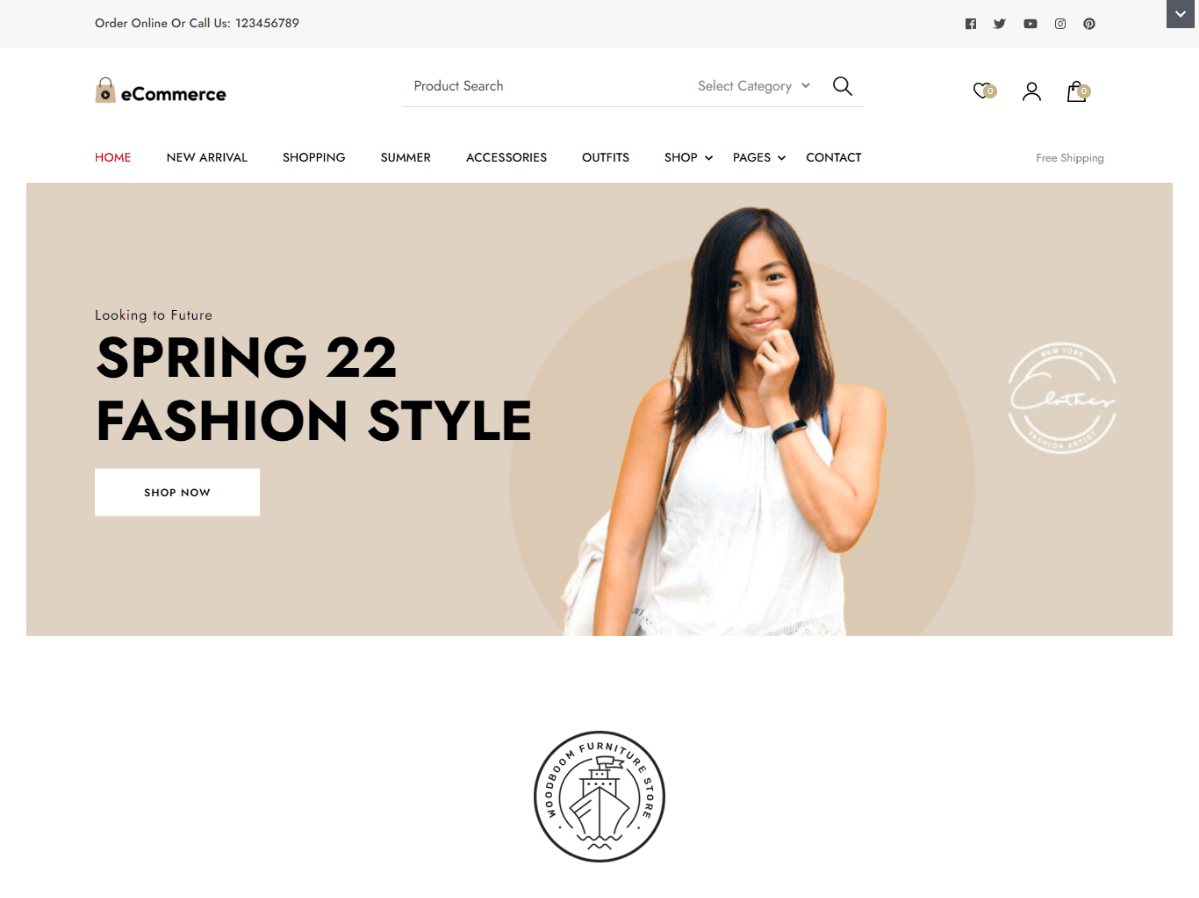 Let's start your eCommerce website with free Rara eCommerce WordPress theme. It is one of the best WordPress themes for your eCommerce website or storefront. It is a theme developed by Rara Theme.
Rara eCommerce is perfect for creating an eCommerce store or an online storefront. The theme has seamless compatibility with the plugin WooCommerce. As a result, you are able to create an online shop for fashion clothes and items, cosmetics, jewelry, furniture, accessories, lifestyle, decoration, gadgets, books, home appliances, clothes, automobiles, groceries, and many more.
The theme is designed to cater to an eCommerce experience. This includes multiple sections to easily display your products to showcase your products to boost your sales.
Rara eCommerce is developed by Rara Theme. They are a company with a track record of having various themes and supporting their customers. The theme has over 300+ active installations. The theme was last updated on February 4th, 2022. With the latest update, you will get version 1.0.2. This version works with PHP version 5.6 or higher.
The features that make Rara eCommerce one of the best WordPress themes are as follows:
i) Widgets Ready: Rara eCommerce provides enough space and functionality for adding necessary widgets. Thus, you can add as many functional widgets as you need. And all of them will add more functionality to your WordPress website. Moreover, Rara eCommerce features 22 more powerful widgets. A few of the important ones for your eCommerce site are advertisements, Call To Action, Client Logo Widgets, Contact Widgets, Custom Categories, and many more. You can check which will be perfect for your website and use them accordingly.
ii) Gutenberg and Elementor Compatible: The theme supports Gutenberg Editor; you can effortlessly modify your website elements. You can add, edit, manage, format, and delete blocks on your site as you need. You can do the same using Elementor if the theme is Elementor compatible. Here, with Rara eCommerce's built-in compatibility with Elementor, customization becomes child play. Moreover, the drag-and-drop interface makes it even easier to create your own layout and design in real time.
iii) Well Optimized for Speed Performance: Rara eCommerce is speed and performance-optimized. The theme helps your website rank higher on search engines with its SEO-friendly design. Their developers have focused on an easy customization experience for the users. You can be ensured that Rara eCommerce includes clean and well-commented codes. Lastly, it is also Schema friendly, making search bots easily understand your site. As a result, you get better indexing and a higher ranking on search engines.
iv) Top-notch Quick and Friendly Support: Do you have questions and queries about the theme? You can quickly get in touch with their expert support team via a support ticket. Afterward, they will reach out to you with the solutions in a flash. Additionally, you can go through their extensive documentation. There, you can simply learn how to install and use the theme by following their step-by-step documentation.
v) Elaborate Customization: Firstly, you get to add your custom CSS to the theme customizer. It lets you have control over how your website portrays the customers. With the theme, you can set any color as primary, secondary, and background on your site. You also get 1000+ Google fonts to use throughout your website. With typography control, you can utilize fonts to your liking. The combination of typography, colors, and custom CSS, makes the WordPress website reflect your brand.
vi) Cross-Browser Compatible: The theme includes the cross-browser compatibility feature. It means that you will get optimal performance on all modern web browsers, including Firefox, Chrome, and Safari. You and your users will be able to use your website all across different browsers.
vii) Regular Updates with Feature Enhancements: Rara Theme is the company behind many popular WordPress themes. They ensure that all their websites are secure and up to the mark with regular updates. The updates focus on enhancing security and features without compromising speed and SEO on your WordPress website. All-in-all, they will ensure your site remains compliant with the latest version of WordPress to give you the best WordPress experience.
viii) Social Media Integration: You can use the social media integration feature to connect with your audience. The theme allows you to incorporate various social media profiles into your site and grow your online reach. Get simple ways to add links to Facebook, Twitter, Pinterest, YouTube and connect with prospective clients.