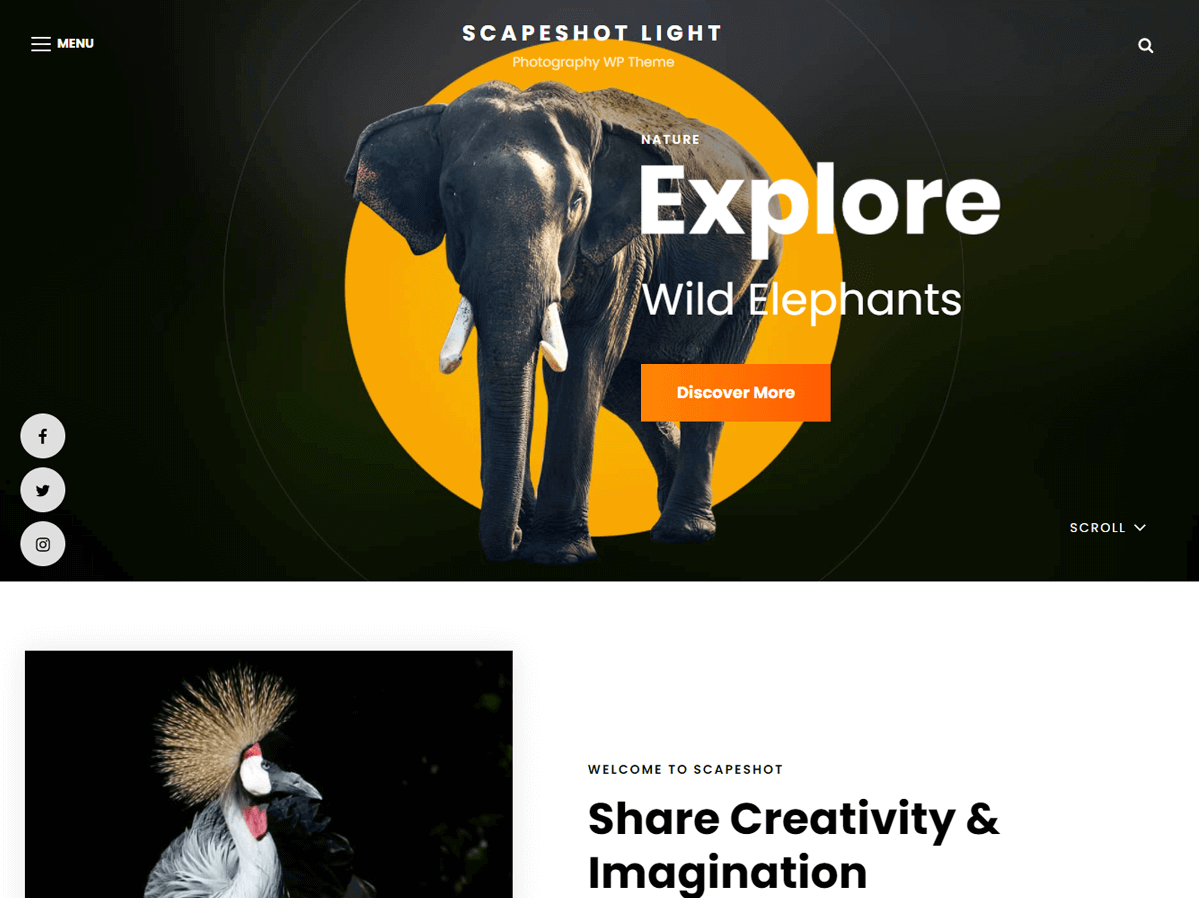 Are you looking to create a website to show your photographs? Well, ScapeShot is the best free Photography WordPress theme you are looking for. With a responsive, visually aesthetic fullscreen design, it is the ideal theme for you.
ScapeShot is best for all kinds of photography websites, blogs, and other businesses. A fully responsive design gives the best look on all devices. With the help of the responsive, visually aesthetic fullscreen design and versatile customization capabilities, you can create a professional and sophisticated photo-centric website with ease. If you want to learn more about ScapeShot, click here and check out their demos here.
With over 1,000+ active installations, ScapeShot is a great theme to incorporate into your WordPress website to enhance your WordPress experience. It works with PHP Version 5.6 or higher.
Major Features of Scapeshot and Their Details:
i) Theme Options: Being a part of Catch Themes, you are able to customize your website with a few clicks. The ScapeShot theme options allow you to toggle on and off features, adjust layouts, logo, favicon, change colors, fonts, background, add social links, and add custom CSS.
ii) Responsive Design: Nowadays, people view your website from various devices. Using this theme ensures that your website will respond and adapt to various screen sizes. This theme is optimized for iPhones, iPads, phones, tablets, and other such devices.
iii) Incredible Support: The team has a great support team. You also have comprehensive documentation you can check out if you get stuck anywhere. You can always refer to their Tech Support segment with your problems. There is also the ability to hire a theme customizer if you want to take your website to the next level.
iv) Featured Page Slider: You can use the Featured Page Slider option to highlight noteworthy pages on your site. Use columns of content as well as selected images set on your page slider to display your best work to potential clients and viewers.
v) Featured Content: Use the Featured Content to highlight your recent and most popular posts on your website. You can display it on the Homepage or the entire site. It will make a certain image stand out as your best work.
vi) Services: You now have a place that displays all the services you provide for your customers in the spotlight. You can choose to display the services in two to four columns. Additionally, you have the option of displaying your services on the homepage only or on the entire website.
vii) Hero Content: Hero Content is the best way to display your strengths. You can display your best work on the Hero Content feature. This grabs the attention of your potential clients or just visitors to your website. To enable the hero content, you can use either the Homepage or within the entire site.
viii) WordPress Standard Codes: The code is secure and optimized. They follow the proper core theme guidelines and have error-free code. They also ensure that the themes will always be updated as things change in WordPress.