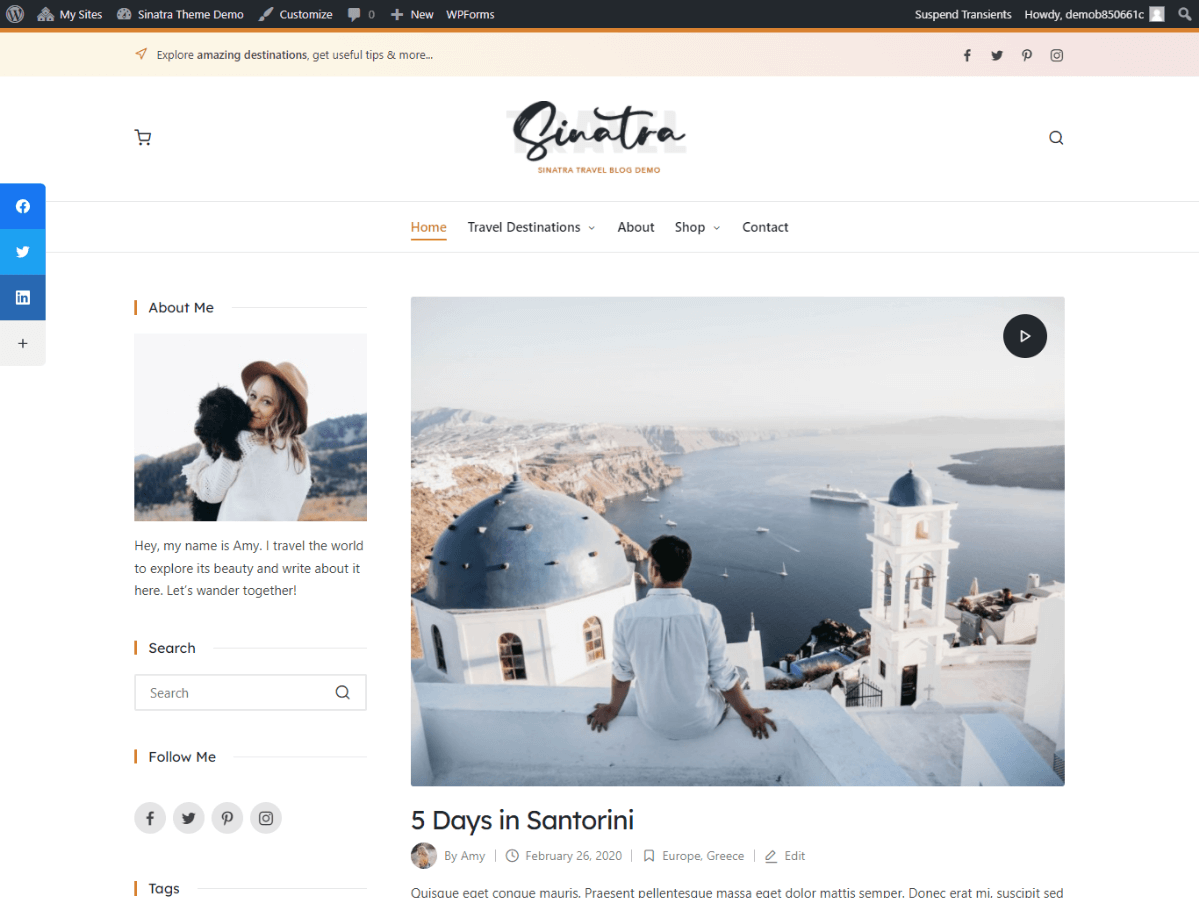 Sinatra is one of the best lightweight and highly customizable free multipurpose WordPress themes. If you are someone who is looking for a great WordPress theme to create a perfect WordPress website, Sinatra is the theme for you.
Being able to customize with ease makes it possible for the theme to cater to any type of need. You can use this free multipurpose theme for blogs, businesses, online shops, creatives, hotels, restaurants, startups and many more.
Moreover, it has over 30,000+ active installations and 33 five stars reviews on wordpress.org. So, Sinatra is one of the best themes to incorporate into your WordPress website to enhance your WordPress experience. It works with PHP version 5.2.4 or higher and WordPress 5.0 or higher. It was last updated on 1st April 2021.
The features that make Sinatra a great free multipurpose WordPress theme are as follows:
i) Multipurpose theme: Most themes gear themselves in one direction or the other. But this theme easily customizes itself into the theme of your choice. If you want to use it in a particular manner to reflect yourself (Portfolio), or a certain brand, you can easily use this theme to fit your needs. This way, you have more room to work with as well.
ii) Gutenberg Compatible: Sinatra works great with Gutenberg. If you are someone who prefers to work with Gutenberg, this theme will be comfortable for you to use. It is Gutenberg optimized for users who are used to working with the WordPress block editor.
iii) Supports other page builders: This theme helps those who are used to working with other page builders. You can use Beaver Builder or Elementor to build using this theme as well.
iv) Works with your plugins: Plugins make WordPress websites powerful. This theme is completely tried and tested with various plugins such as WooCommerce, JetPack, Contact Form 7 and so on. You can use similar favourite plugins of your choice and better your WordPress website with this theme.
v) Translation Ready: Given the nature of the site, you may want to use your native language. It makes your site more appealing to the users. Sinatra is translation ready and can easily be translated to best fit your needs.
vi) Best SEO practices: The theme is very lightweight making the website very favourable for search engines. Additionally, this theme implements the best SEO practices. And this gives your WordPress website an edge for higher ranking and audience reach.