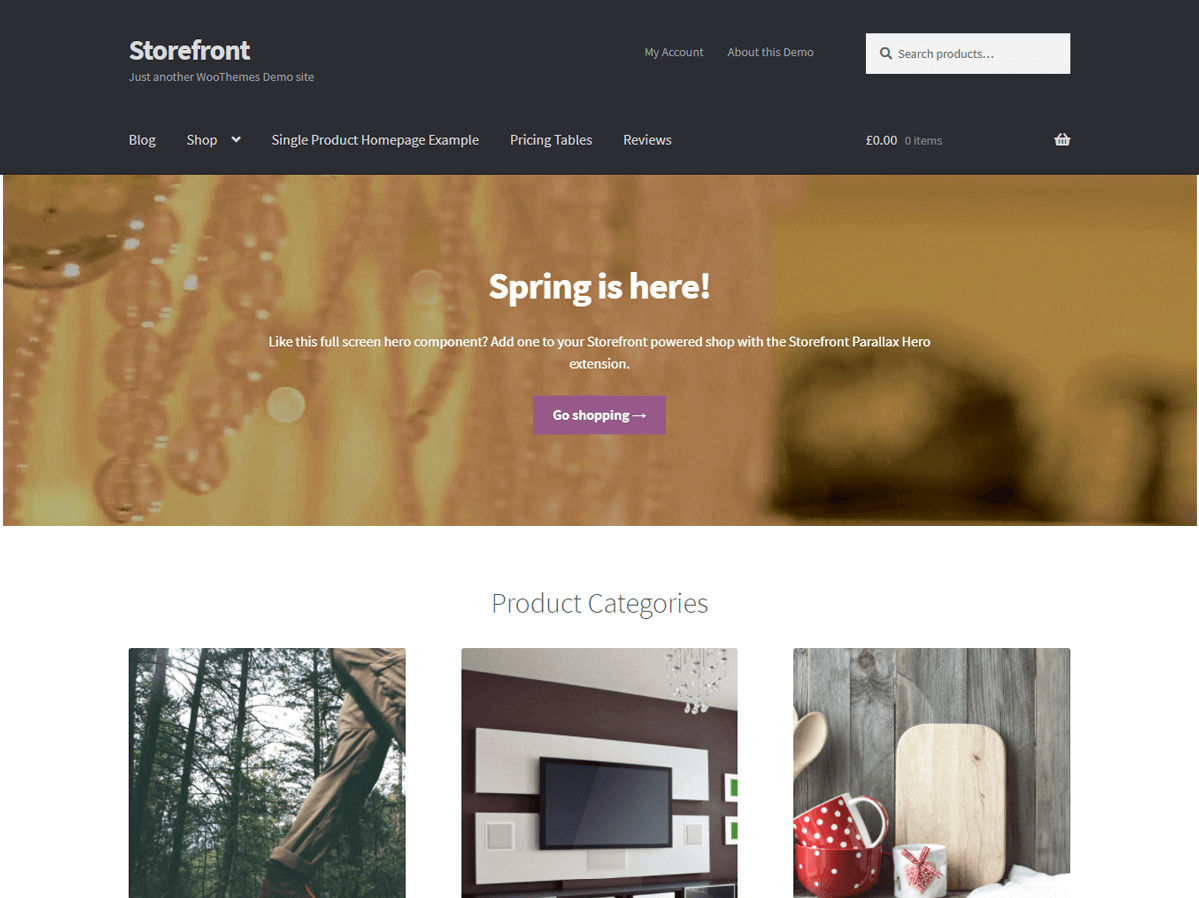 Seeking a fully functioning free ecommerce WordPress theme with the latest features for your next WooCommerce project? WooCommerce Storefront would be the flexible & intuitive theme for you if you said yes.
Storefront is made under the Underscores starter theme. Such design is the base for all the WordPress.com websites, designed under Automattic. Thus, without any doubt, it comes with lightweight and fast-loading layouts. Also, they are responsive, SEO-friendly, and flexible to customize with easy-to-use options.
So, look no further and come on board with Storefront. To date, it has been working wonders for over 200k active websites. You can easily download its latest version (3.8.1) for free and set up all the processes within a few minutes. It works for PHP version 5.6.0 or higher and works well with the latest version of WordPress. It keeps on self-updating as well, with the last update on August 18, 2021.
Major Features of StoreFront and Their Details:
i) Integration with WooCommerce and WooCommerce related plugins: It's the greatest benefit of using Storefront. Due to this flexibility, it's also the most WooCommerce-friendly WordPress theme. You get the freedom you want while creating & customizing the eCommerce website you need.
ii) Free installation and hassle-free setup: You can easily download this feature-rich WordPress theme either from the WordPress or WooCommerce repository or from its official page. After the installation, it directs you to different links for support, documentation, and blogs. You also can find the links to child themes and plugin extensions.
iii) Storefront Child Themes: You can find 14 various child themes of Storefront on their website. Their designs are standard & unique. You can instantly use them and further customize them on your own. Out of them, two designs, Deli and Boutique, are free. If you want to upgrade to the premium, the average rate for the remaining child themes starts with $39 per year, including free support & updates.
iv) Minimalist Design with flexible customization: The core design of Storefront is primarily based on minimal design. After you activate it, you can further develop using the child theme. Also, it allows you to stylize the website in real-time using the theme customizer.
v) Four free plugin extensions: The plugin extensions for Storefront helps to extend its functionality. There are altogether 11 storefront plugin extensions, out of which four are absolutely free. It includes Storefront Homepage Contact Section, Hamburger Menu, Product Sharing, Footer Bar.
vi) Advanced add-ons for theme optimization: If you want to take the theme customization to the next level, you can purchase Storefront Powerpack plugin, Storefront Hooks. Powerpack can change every aspect of your eCommerce store, like header layout, color, fonts, etc., without touching any code. Similarly, Hooks helps to add actions & filters to the selling pages.
vii) eCommerce focused Homepage: You will find plenty of display options for your homepage that fully supports an eCommerce site. For instance, there are options for product categories, recent, featured, on-sale, and top-rated products. If you need, you can tweak them within a few clicks in real-time and change their looks.
viii) Miscellaneous features of Storefront that you shouldn't miss are Bulletproof WooCommerce integration, responsive display, accessibility ready, enhanced SEO performance, flexible & nestable grid system, fast loading, detailed documentation, clean code, lightweight framework, and more.