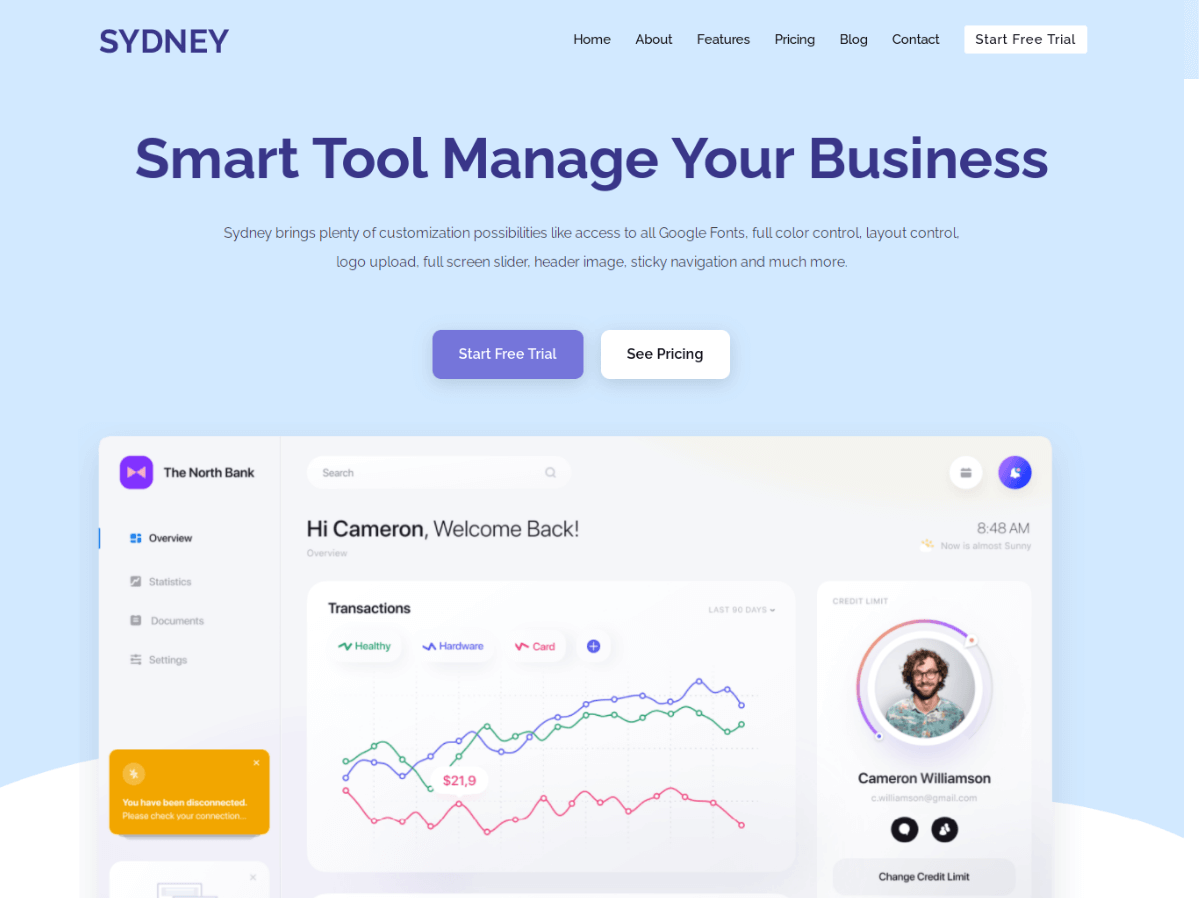 Are you a business person looking to showcase your business through a WordPress site? If so, Sydney is the free powerful multipurpose WordPress theme that's best suited for you.
As a business person, various other things require your attention. So, the process of making an online presence should be simple. Keeping that in mind, Sydney offers a fast way for startups, companies, and/or freelancers to create a powerful online presence.
With over 100,000+ active installations and a 5-star review, Sydney is a feature-rich WordPress theme. It offers plenty of customizations with construction blocks that ultimately helps to create engaging web pages. All of its excellent features make it the best theme, which Elementor even officially recommends. It works with PHP version 5.6 or higher.
Major Features of Sydney free multipurpose WordPress theme and Their Details:
i) Primary focus on businesses: Even though Sydney is a free multipurpose WordPress theme, it's specifically made for businesses. Its design and aesthetics showcase the very strengths of businesses and appeal to potential customers. This makes the process of having an online presence for any business a breeze.
ii) Parallax Backgrounds: Give your business a professional look by using a parallax background. With Sydney, you can set a parallax background image for your rows and watch it come to life as you scroll through your site. Use this feature to make your site more functional and unique from the rest.
iii) Custom Elementor Blocks: Now, you can use the blocks included in the theme to set up the home page that matches your brand. This way, you will be able to make your business stand out on the Internet and impact your audience/clients. That's why Sydney is officially recommended by Elementor as well.
iv) Slider or Static Image Header: The eye-catching headers bring a lot of value to your site. That's why Sydney provides a number of options for headers. You can choose from a full screen slider or a full-width static header image. It's all your choice.
v) Strong Social Media Presence: Keep your visitors engaged using popular social media platforms like Facebook, Twitter, Pinterest, and Instagram. This way, your social media presence gets strong and generates leads via them.
vi) Google Fonts: With Sydney, you can easily access any fonts you want from Google Fonts. Utilizing this, you can project your brand all over your website using the font that you think fits your business. You now have more than 600 fonts to use in your WordPress site.
vii)Theme Options: Given your business, you need to be able to customize your website according to the brand image. With Sydney, you can customize your front page and blog layout, change the colors, and much more as per your business. All theme options you need are accessible in the powerful Theme Customizer.
viii) Responsive Ready: As many devices are used for browsing the web, it is a must that our themes be responsive according to the device it's viewed on. Sydney is a responsive theme by default, designed with best practices in mind.