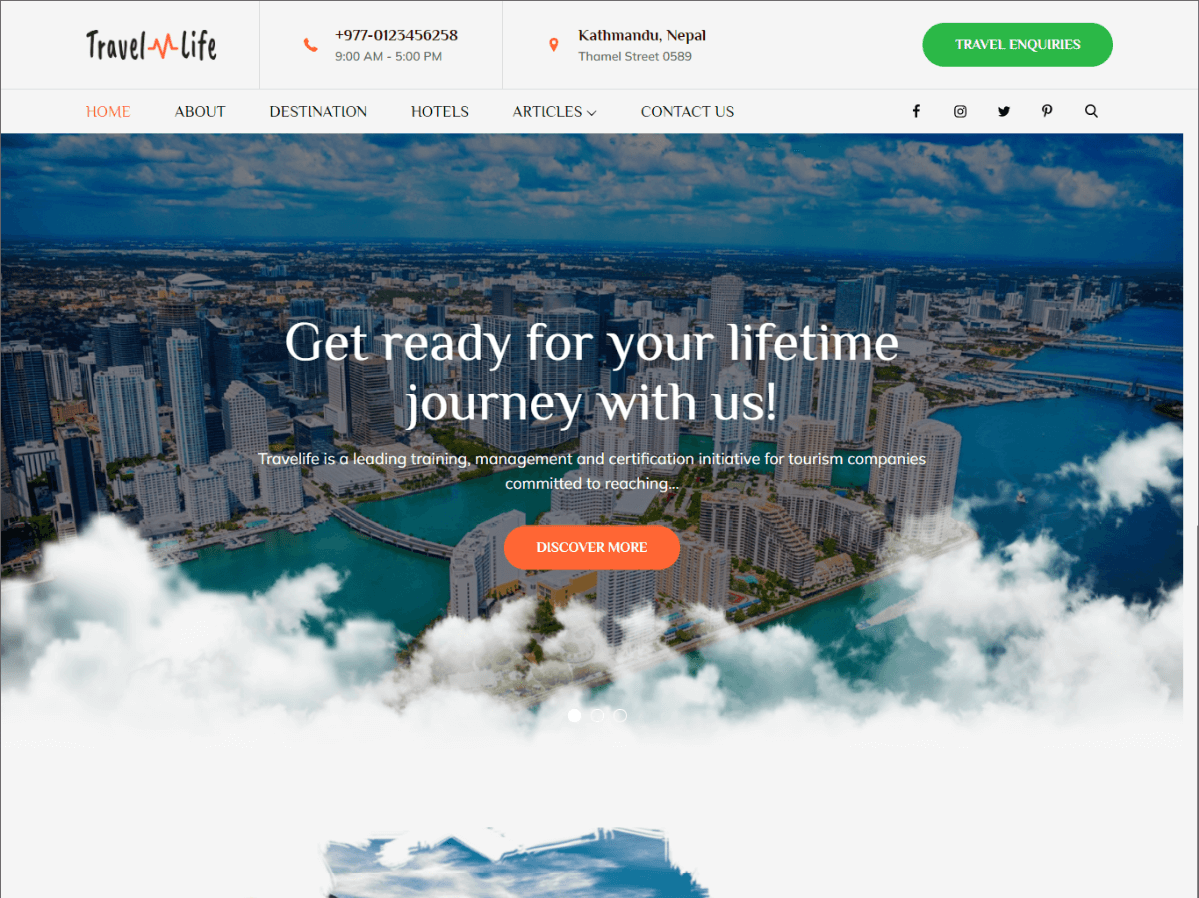 Travel Life is one of the best themes for travel agencies, tour planners, and tourist guides. It is a modern fully responsive theme that will look best for your users across various platforms. It gives you the freedom to customize the website that reflects your brand properly.
With the premade designs and demos, you can choose which type of website's brand you want to portray. People come to a travel website to learn about the places they want to visit. A professional theme ensures that people trust your site to come back for advice again. And this theme is all made to look professional.
Travel Life has over 100+ active installations. It was last updated on October 27, 2021. It works well with WordPress Version 5.0 or higher and PHP Version 5.6 or higher. Use the Travel Life theme for all kinds of travel websites and be ready to take it to the next level.
The features that make Travel Life a great WordPress theme are:
i) Responsive Design: People nowadays are on various devices. From Laptops to small screens such as iPads, tablets, and mobile phones. For each of these, Travel Life adapts to the screen size. This responsive design makes your website look professional across all platforms.
ii) Demo Import: Travel Life comes with a pack of 5 demos free demos. You can easily import these demos into your site and then get started. This makes it easier for beginners to set up. Also, it gives you enough time to start your website for your travel agency, tour planner, and/or tourist guide.
iii) Advanced Color Option: Travel Life has an advanced colour option. With this, you can choose the perfect colour combination to best reflect your brand.
iv) Primary and Social Menu: You have a primary menu where you can add links to help people to navigate through the website. You also have a Social Menu to create a new menu location that can be used to display links to Social Media Profiles.
v) Custom CSS Option: You can customize your website to look the way you want by adding your custom CSS. This way, you can reflect your brand with ease via specific CSS.
vi) Theme Options: You can use the theme options to choose a variety of topics to craft the website uniquely. You can change the Layout, Excerpt, Blog/Archive, Pagination, and Footer Option to define how your website looks to your users.
vii) Blog/Archive: You get a blog/archive section with this theme. This is very useful when posting about various places for people to visit, the itinerary for such trips, the best places to visit in a certain region, and the things to do. These sections will help your website reach more audiences.
viii) Home Page Section: You can edit the home page settings to show your latest posts or to show a static page with various options. Those options help the users navigate the website the way you want them.