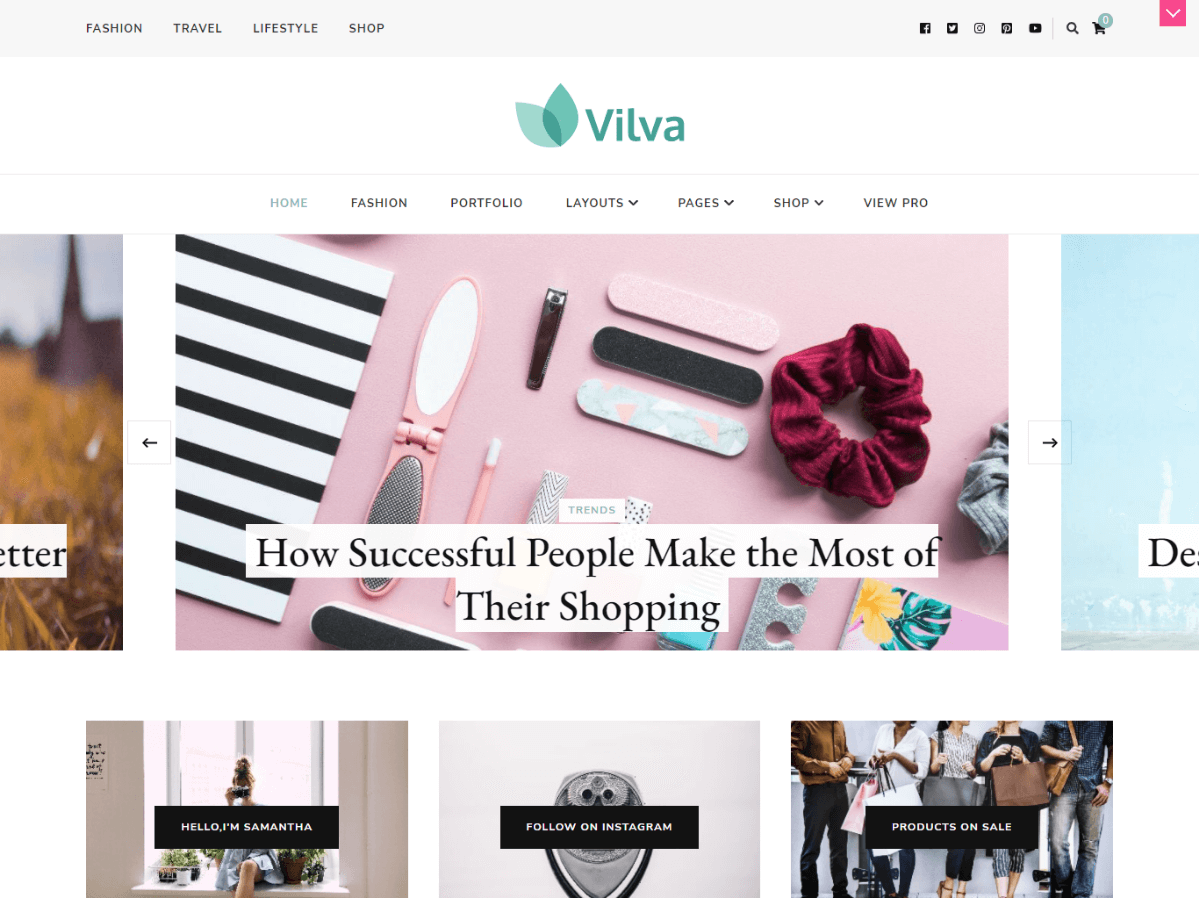 Vilva is the best free feminine multipurpose blog theme. It is a beautiful theme packed with various features that makes it best for all types of websites. Also, you have one of the best organizations behind this theme. And they crafted the theme in a way that this beautiful WordPress theme is easy to install & use.
Vilva is 100% responsive as well. It looks perfect in any screen size from laptops to tablets to phones. With its vibrant colours that splash across the site, you will be able to establish a strong brand presence. This will help you share your expert fashion tips, favourite recipes, create a lifestyle blog, talk about travel, food, beauty makeup; coach people or create any other themed blog.
Vilva has over 6,000+ active installations and has a rating of 5 out of 5 stars on wordpress.org. It was last updated on October 8, 2021. It works well with PHP version 5.6 or higher.
The features that make Vilva one of the best multipurpose WordPress blog themes are:
i) Responsive Design: Vilva is a responsive WordPress theme that looks beautiful across all screens. It adapts to mobiles, tablets, and laptops to show the best version of your site. This gives users a wonderful user experience in all forms.
ii) Cross-browser compatibility: Vilva is compatible with all browsers. The website functions across different browsers in a similar manner. This gives a proper user experience to all of the visitors of your blog.
iii) SEO optimized: The theme is optimized for speed. This makes it susceptible to better SEO. The theme is also coded with proper and latest coding standards. This makes the overall ranking of the website better with search engines.
iv) Social Media Integration: With Social Media Integration, you can easily help your viewers share your blogs on their social media. This theme also has a dedicated section for Instagram.
v) Custom CSS: If you are not happy with the CSS provided by the theme or you just want to add additional features through the CSS, you can. You can do it via custom CSS. This will also help you customize your Vilva WordPress website to best reflect your brand.
vi) Proper Documentation: Vilva was created by the best team to help people easily install and use Vilva. The theme has proper documentation. You can find both text and video documentation to help you set up your WordPress website. 
vii) Proper Support: If the FAQs and the documentation don't solve your problem, fear not. You can also send a support ticket to help you with your WordPress website.
viii) Tons of Miscellaneous features: The theme has a lot of miscellaneous features which make it the best for any WordPress site. The features include Banner with Slider, Banner with Static/ Video Call-to-Action, heading and banner layouts, blog page and archive page layouts. These specialities will help you to build the best WordPress blog website.